News
Hans Oettgen Named Children's Hospital Boston Professor in Pediatric Immunology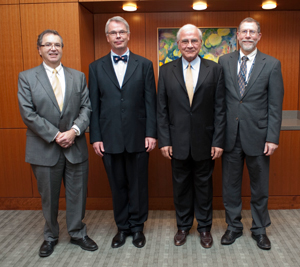 The first incumbent of the Children's Hospital Boston Professorship in Pediatric Immunology is Hans Oettgen.
Oettgen graduated from HMS in 1984 and earned his PhD in 1987. He completed all of his clinical training—internship, residency in pediatrics and postdoctoral fellowship in allergy and immunology—at Children's Hospital Boston. Oettgen joined the faculty of the Division of Immunology at Children's in 1994 and currently serves as associate chief.
Since Oettgen joined the Division, his lab has worked as a member of a consortium of research groups, coordinated by the National Institutes of Health (NIH) and the Atopic Dermatitis Vaccinia Network. As part of this network, his lab studies the pathophysiology of eczema vaccinatum, a severe vaccine side effect.
Oettgen's lab also focuses on the influence of immunoglobulin E—an antibody that mediates allergic reactions—on mast cell homeostasis in the intestine and lungs, and more specifically, how immunoglobulin E regulates immune sensitization as it pertains to asthma and food allergy.
As associate chief of the Division of Immunology, Oettgen oversees the clinical operations of the allergy, immunology, rheumatology and dermatology programs. He has a longstanding commitment to the education of clinical fellows in allergy, immunology and rheumatology and serves as co-principal investigator on the Division of Immunology's NIH T32 training grant. Oettgen also manages the Division's clinical services for children with allergies, immune deficiencies, rheumatologic diseases and skin disorders.
The professorship is established by Children's Hospital Boston in honor of Raif Geha, James Gamble Professor of Pediatrics at Harvard Medical School, and chief of the Division of Immunology, Allergy, Rheumatology and Dermatology at Children's Hospital Boston. Following his retirement, the fund will be renamed the Raif Salim Geha Professorship in Pediatric Immunology.