News
Federalism and Health Care
When a contentious 111th Congress passed the Patient Protection and Affordable Care Act (PPACA) in March of 2010, the final legislation included strong language that spelled out a leading role for states in creating a variety of experimental models for health reform.
In theory, a diverse mix of state policies would serve as a kind of laboratory of democracy, testing different approaches to regulating and providing health care and allowing states to tailor their policies to their citizens' values and local circumstances.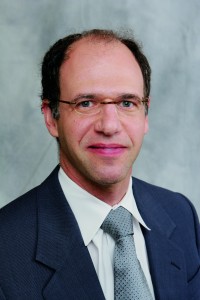 But according to Alan Reed Weil, executive director of the National Academy for State Health Policy, in reality, the fiscal, legal, political and power structures of federalism as we know it severely limit the possibilities of any real diversity of policy among the states. Weil presented his views at the 11th annual Marshall J. Seidman Lecture in Health Policy, sponsored by the HMS Department of Health Care Policy.
Weil's argument draws on analyses of other national reform efforts from the recent past, including welfare reform and both the No Child Left Behind and the Race to the Top educational reform initiatives. He also shared insights on how the congressional statute of the PPACA was transformed into regulations and discussed research on how states are implementing those regulations.
For example, despite Congress's clear mandate that states be given leeway in developing their own policies as they implement the PPACA, the legal regulatory framework that dictates their relationship with the national government gives the last word in defining policy to the federal administrative agency. As a result, a few pages of suggestive, evocative statute become hundreds of pages of proscriptive regulations. If states interpret the legislation differently than, say, the Department of Health and Human Services, HHS automatically wins.
This isn't a function of health policy; it's just the way our federation has evolved, Weil said. Since there are very few constitutional restraints on the power of the federal government, the only real restraints are political. There is no legal framework for mandating state autonomy in implementing national legislation like the PPACA. Weil, who was an appointed member of President Clinton's Advisory Commission on Consumer Protection and Quality in the Health Care Industry, pointed out that this is not a left or right-wing issue: many conservative proposals, like national tort reform, would also result in rising concentrations of authority with the national government.
It also doesn't help the chances for diverse state experimentation that most of the states are struggling financially and can only afford to do what the federal government provides resources to do.
Weil provocatively titled his talk "Can American Federalism Survive Health Reform." His answer?
"The federation will survive," Weil said, "but it may demonstrate itself too weak to tackle the problems we face as a country."
To view the talk online, visit the Health Care Policy website.