News
Faculty Affairs Launches new Website for Junior Faculty Promotions
The office for faculty affairs has launched a new secure website for junior faculty promotions. The new site will allow department heads, chief promotion administrators, the academic dean and candidates for promotion to monitor the progress of the promotions process.
The new Web page, now known as "Faculty Promotions" has been activated and merged with what was previously called "Professorial Promotions."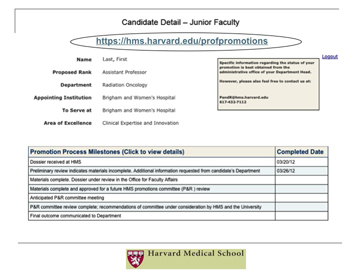 Individuals associated with specific cases will be able to view the status of junior and senior promotions on the same site.
 The purpose of the website is to provide:
Regular updates regarding the achievement of key milestones in the promotions process
A description of each milestone in the process
Users may access the website with their eCommons ID and password at: https://hms.harvard.edu/profpromotions. Each user will only have access to the site when a candidate from their department is under active consideration. 
The office for faculty affairs will contact candidates by email to inform them of the availability of the site at the start of their HMS promotion reviews.
For more information about the website and senior promotions, contact Assistant Dean for Faculty Affairs Mary Walsh. Questions about the web site and junior promotions can be directed to Assistant Dean for Faculty Affairs Carol Bates.