News
People who trained under the watchful eye of Simmons Lessell remember him as their teacher, colleague, father figure and best friend. In a word, Lessell was their mentor.
"He found something good in every one of us, never emphasized the negatives, and never made comparisons," said one former trainee. "He was like a parent, always sympathetic and nurturing when things were difficult, but always expecting more when things were easy. His fellows have changed the landscape of neuro-ophthalmology."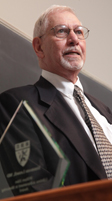 The Paul Austin Chandler Distinguished Professor of Ophthalmology at Harvard Medical School and at Massachusetts Eye and Ear Infirmary, Lessell has had a distinguished career in neuro-ophthalmology. His accolades now include a 2014 William Silen Lifetime Achievement in Mentoring Award.
Along with Lessell, a total of 18 HMS faculty members at three career stages were recognized by the School for excellence in mentoring at a June 12 ceremony at HMS.
Joseph Rizzo, the David Glendenning Cogan Professor of Ophthalmology in the field of Neuro-Ophthalmology at Mass Eye and Ear, said dictionary definitions of mentor are too "anemic" to capture Lessell, who became Rizzo's mentor 32 years ago.
"My life has been enriched by working with Simmons Lessell. That's how I know what being a mentor is," Rizzo said. "He's caring, empathetic, devoted, a great communicator and generous of his time. … He showed by his example that hard work can be fun."
Accepting his award, Lessell lived up to his reputation for good humor, greeting his audience in the Medical Education Center amphitheater with a joke about his age.
"I would also like to thank my mentors, but if you do the arithmetic, none of them are available," he said to laughter.
The people whose lives Lessell touched praised him as a crucial adviser.
"Life took me to his door," one of his nominations read. "We talked, he listened, I grew. It would have been comfortable to stay in the Harvard womb, but he kicked me out because he knew it was best for me and my academic career. The bond remains strong and I still turn to him frequently for … advice, and, yes, it has become a two-way street, but perhaps it always was."
Joan Reede, HMS dean for diversity and community partnership, introduced Lessell and the other award winners, who were chosen from 444 nominations of 185 faculty members.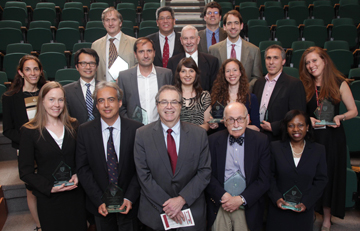 Across HMS, each faculty member, house officer, fellow and student was asked to nominate a mentor who had provided sponsorship, encouragement and support for their own career and personal development, as well as for the development of their colleagues.
"Mentoring benefits not only the mentee, it also benefits the mentor, and the institution as a whole, by developing individuals who will be better prepared to assume greater responsibility at Harvard and the greater community," Reede said. "For this, I thank each of you who give of yourselves unselfishly and believe that mentoring is an important and meaningful part of our professional and personal lives."
During the ceremony, children and grandchildren were in the audience and families were on the minds of award winners and mentees. Mentoring takes time, mentors and mentees said, and faculty members balancing clinic, lab and home responsibilities were praised for leading by example as they shared their time with their students and trainees.
Taking pride in their mentees' achievements was also a theme in remarks made by award winners as they accepted their trophies.
Before lifetime achievement honoree Lessell spoke, winners of the Young Mentor Award thanked the mentors who had influenced them. Rebecca Berman, instructor in medicine at Brigham and Women's Hospital, thanked her students, calling it "an absolute joy" to be their mentor. She is also grateful to Marshall Wolf, among others. A professor of medicine at Brigham and Women's, Wolf later also received a William Silen Lifetime Achievement in Mentoring Award.
According to one of his nominations for the A. Clifford Barger Excellence in Mentoring Award, Bernardo Sabatini, Takeda Professor of Neurobiology, often tells his mentees to "put on your own wings and fly."  
Kimberly Stegmaier, associate professor of pediatrics at Dana-Farber Cancer Institute and Boston Children's Hospital, and another Barger award winner, said she learned from her mentors that "you can do anything, but you can't do everything."
Reede closed the ceremony with thanks to mentors, mentees and the School.
"I am proud to be part of an institution that recognizes the importance of quality mentoring and honors those that do so."
Young Mentor Award
Rhonda Bentley-Lewis, HMS assistant professor of medicine at Massachusetts General Hospital
Rebecca Berman, HMS instructor in medicine at Brigham and Women's Hospital
Sydney Cash,  HMS associate professor of neurology at Massachusetts General Hospital
Jessica Haberer, HMS assistant professor of medicine at Massachusetts General Hospital
Douglas Kwon, HMS assistant professor of medicine at Massachusetts General Hospital
Alexander Lin, HMS assistant professor of radiology at Brigham and Women's Hospital
Peter Nigrovic, HMS assistant professor of medicine at Brigham and Women's Hospital and Boston Children's Hospital
Magali Saint-Geniez, HMS assistant professor of ophthalmology at Schepens Eye Research Institute and Massachusetts Eye and Ear Infirmary
A. Clifford Barger Excellence in Mentoring Award
Reza Dana, HMS Claes H. Dohlman Professor of Ophthalmology at Schepens Eye Research Institute and Massachusetts Eye and Ear Infirmary
Elizabeth Gaufberg, HMS associate professor of medicine and psychiatry at Cambridge Health Alliance
Ferenc Jolesz,  HMS B. Leonard Holman Professor of Radiology at Brigham and Women's Hospital
Danny McCormick, HMS  associate professor of medicine at Cambridge Health Allilance
Bernardo Sabatini, HMS Takeda Professor of Neurobiology
Kimberly Stegmaier, HMS associate professor of pediatrics at Dana-Farber Cancer Institute and Boston Children's Hospital
William Silen Lifetime Achievement in Mentoring Award
Xandra Breakefield, HMS professor of neurology at Massachusetts General Hospital
Simmons Lessell, HMS Paul Austin Chandler Distinguished Professor of Ophthalmology at Massachusetts Eye and Ear Infirmary
Clifford Tabin,  HMS George Jacob and Jacqueline Hazel Leder Professor of Genetics
Marshall Wolf, HMS professor of medicine at Brigham and Women's Hospital