News
Empowering Communities to Improve Health
Communities have the power to prevent the rising flood of chronic, preventable diseases, according to Reed Tuckson, executive vice president and chief of Medical Affairs of UnitedHealth Group.  But can a new hairstyle make getting fit fashionable?
Tuckson, a physician and a top executive at UnitedHealth Group, answered this question and raised others on April 26 as he talked about the power of a community to bring new solutions to old problems at the 2011-2012 Howard, Dorsey, Still Lecture and Diversity Awards ceremony.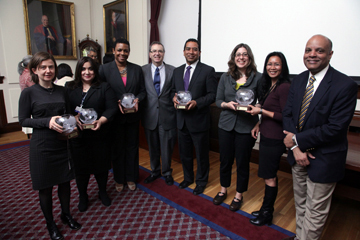 "We're all in this together," Tuckson repeated throughout his lecture. He focused on how to address healthcare disparities within the current care delivery system in the U.S. The theme of bringing disparate parts of communities together to generate new ideas to solve old problems formed the core of Tuckson's spirited talk on health in a democratic society.
"Health is where social forces converge with the greatest clarity," he said.
The annual Howard, Dorsey, Still Lecture is named for the first three African Americans to graduate from HMS in the mid-nineteenth century—Edwin Howard, Thomas Dorsey, both Class of 1869, and James Still, Class of 1871. This year, Lurey Kahn, a great-grandniece of James Still, attended the lecture.
Tuckson talked about "disruptive innovation" in healthcare delivery. That's where the hairdo comes in: Tuckson's group has partnered with communities and hair salons to pilot "hair fitness" competitions. If African American women had hairstyles that would withstand an exercise session, the reasoning went, they might be more likely to get out and exercise. Tuckson reported that participants were excited about the idea and said that preliminary results were encouraging. This kind of low-tech, patient-centered innovation can build community engagement in health interventions more than the "we know what's good for you" approach, Tuckson said.
Although Tuckson cited grim statistics about the health status of Americans, and talked of the impending "tsunami of preventable chronic conditions" he was optimistic that dry ground can be found in community solutions.
Despite the complexity, fragmentation and misdirected funds rampant in the healthcare system, Tuckson sees ways communities can control the narrative. Improving the pipeline of minority researchers, involving all community constituents in the conversation and focusing on patient-centered care can provide a strong foundation for closing the disparity gap.
Local Heroes
In presenting the annual Harold Amos Faculty Diversity Awards, Dean for Diversity and Community Partnership Joan Reede introduced selection committee chair Winfred Williams, Jr., assistant professor of medicine at the Massachusetts General Hospital.
The 2012 honorees are:
Sherri-Ann M. Burnett-Bowie
Assistant Professor of Medicine, Massachusetts General Hospital
George L. King
Professor of Medicine, Joslin Diabetes Center
Sylvie Le Gall
Assistant Professor of Medicine, Massachusetts General Hospital
Mary Frances Lopez
Assistant Professor of Pediatrics, Children's Hospital Boston 
DeWayne M. Pursley
Assistant Professor of Pediatrics, Beth Israel Deaconess Medical Center
Andrew L. Warshaw
W. Gerald Austen Distinguished Professor of Surgery, Massachusetts General Hospital
The Joint Committee on the Status of Women received the Sharon P. Clayborne Staff Diversity Award.
Accepting the award on behalf of the JCSW were Darla White, archivist and records manager at the Countway Library and Aun Em, help desk coordinator in IT-Client Services.