News
Egan Professorship Propels Transitional Medicine
In a Sept. 13 ceremony at the Harvard Club of Boston, Dean Jeffrey Flier acknowledged Ellis Neufeld as the first incumbent of the Egan Family Foundation Professorship of Transitional Medicine. Citing Neufeld's clinical and laboratory investigations of pediatric blood disorders, Flier recognized him as a leader in a "unique field of medicine that focuses on patients' transition from childhood to adulthood."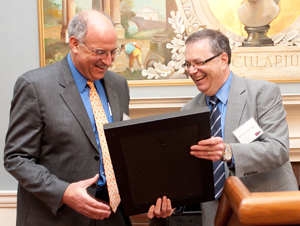 Neufeld's gift for bridging those worlds was underscored by David Williams, the Leland Fikes professor of Pediatrics at HMS and, at Children's Hospital Boston, chief of the Division of Hematology and director of Translational Research. "Ellis is an outstanding researcher who observes clinical problems and then addresses their solution in the laboratory," he said.
In accepting the professorship, Neufeld noted that "the time is right to build this field." Three or four decades ago, children with cystic fibrosis rarely lived beyond age 12, but treatment advances now allow them to survive into middle age. Transitional medicine, Neufeld said, recognizes the need for a continuum of care as young people grow up to face adult health issues.
This new professorship is the second at HMS sponsored by the Egan Family Foundation.