News
Dunham Lectures Return to HMS
Renowned immunologist Mark Davis of Stanford University will deliver the 2012 Dunham Lecture Series, when the venerable lectureship returns to HMS on May 4 after a brief hiatus.
"The Dunham Lectures have long been an integral part of life at Harvard Medical School," said HMS Dean Jeffrey S. Flier. "The caliber of the lecturers speaks to the importance of the program. I'm honored to reinstate this wonderful tradition." 
The lectureship was established in 1923 by Mary Dows Dunham in memory of her late husband, Edward Dunham. Of the 75 medical researchers honored with a Dunham lectureship, 28 have been Nobel laureates, including Willem Einthoven, the Dutch inventor of the electrocardiogram, who read of his award in the Boston Globe while in town to deliver the inaugural Dunham lectures in 1924.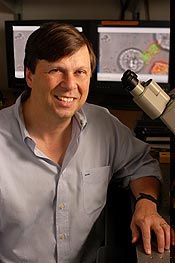 Davis is the Burt and Marion Avery Family Professor of Immunology at the Stanford University School of Medicine and director of the Stanford Institute for Immunology, Transplantation and Infection. Davis is widely known for identifying a number of important genes essential for immunological function, such as elusive T-Cell receptor genes, which his lab discovered in the 1980s. He has also helped pioneer diagnostic assays for immune function, including a high throughput cellular array system, which can obtain information from a variety of types of blood cells simultaneously.
"Davis has done pioneering work to help us understand the immune system from a broad perspective," said William Chin, HMS executive dean for research. "Anyone in our community with an interest in immunology and related areas should be excited about these lectures."
Davis will deliver two lectures at the Joseph B. Martin Conference Center:
"Immunology Taught by Humans," Friday, May 4, 4–5 pm
"Molecular Dynamics of T Cell Recognition," Monday, May 7, 12–1 pm.
An immunology symposium, "Breaching the Borders," organized by the Division of Immunology, will follow, on Tuesday May 8, 8:30 am – 5:30 pm.    
The lectures and symposium are open to all faculty, students and staff.
The title of the symposium directly reflects the program. Each of the four sections focuses on the border between immunology and another field. The four sections are titled NeuroImmunology, ImmunoMetabolism, Inflammation/Cancer Connection, and Systems Immunology.
"This symposium will showcase of the broad range of the immunology field, as well as its fusion with other disciplines," said Diane Mathis, Morton Grove-Rasmussen Professor of Immunohematology.   
For more information and for the list of speakers, visit the symposium's Facebook page.