News
News
NAS Honors Three Faculty Members for Original Research
The National Academy of Arts and Sciences has elected 72 new members to its ranks, including three from the HMS community. The NAS is a private organization of scientists and engineers dedicated to the progress of science, new members being chosen in recognition of outstanding achievement in original research.
The new members from HMS are Porter Anderson, William Kaelin and Kevin Struhl. Anderson, a lecturer on pediatrics at Children's Hospital Boston, is best known for his work that led to the development of a vaccine against Hemophilus influenzae type b, which causes bacterial meningitis.
Kaelin, a Howard Hughes investigator and HMS professor of medicine at Dana-Farber Cancer Institute (who recently received the prestigious Canada Gairdner International Award) studies the function of tumor suppressor proteins, with the aim of laying the foundation for the development of anticancer drugs. He has a particular interest in the von Hippel-Lindau tumor suppressor protein (pVHL), the retinoblastoma tumor suppressor protein (pRB), and the p53-like protein p73.
Struhl's lab combines genetic, molecular and genomic approaches available in yeast to address fundamental questions about transcriptional regulatory mechanisms in living cells. Struhl, the David Wesley Gaiser professor of biological chemistry and molecular pharmacology, investigates physiological targets of human transcriptional regulatory proteins and chromatin modifications on a whole-genome basis using a novel microarray approach.
Biochemist Garners Welch Award for Enzyme Studies
Christopher T. Walsh, the Hamilton Kuhn professor of biological chemistry and molecular pharmacology at HMS, has received the Welch Foundation's Welch Award in Chemistry for work that has illuminated the molecular basis of enzymes, which speed up chemical reactions, and has led to the development of new antibiotics and cancer treatments. He shares the award with JoAnne Stubbe of MIT, who also studies enzymes. The Welch Award recognizes contributions in chemistry with a significant, positive influence on humankind.
Walsh's research is focused on understanding how enzymes effect chemical transformations in biological systems. His studies have revealed how antibiotics work and how resistance develops. One major finding detailed the way bacteria develop resistance to the antibiotic vancomycin, a drug often used as a treatment of last resort in critically ill patients. Walsh's work has facilitated development of new antibiotics that circumvent the mechanisms of resistance. His current research explores the biosynthesis of natural-product antibiotics, work that may lead to the development of new treatments for infections, tumors and autoimmune disease, and to more efficient ways of producing such treatments.
The Welch Award includes a gold medallion and a shared prize of $300,000. The recipients were honored at a dinner at the American Academy of Arts and Sciences in Cambridge earlier
this month.
Academy of Arts and Sciences Taps Five from HMS
Five HMS faculty members are among the new class of fellows elected to the American Academy of Arts and Sciences. Founded during the American Revolution, the academy recognizes leading "scholar-patriots" in the arts and sciences whose work has made a broad impact on the nation.
These new members are Harvey Cantor, the Baruj Benacerraf professor of pathology at HMS and Dana-Farber Cancer Institute, who studies the development and function of T cell subsets and their products; Ronald DePinho, HMS professor of medicine (genetics) at Brigham and Women's Hospital, whose research focuses on cancer-senescence pathways in normal and neoplastic processes; Carol Nadelson, HMS professor of psychiatry at BWH, a pioneer in the field of women's mental health and advocate for the advancement of women faculty; Bruce Walker, Howard Hughes investigator and HMS professor of medicine at Massachusetts General Hospital, who studies the cellular immune response to human viral pathogens, particularly HIV-1 and hepatitis C virus; and Fred Winston, the John Emory Andrus professor of genetics at HMS, who investigates the regulation of eukaryotic gene expression at the level of transcription and chromatin structure in yeast. The new fellows will be inducted at a ceremony in October.
Community Engages in Health Literacy Research
Community health centers in Dorchester, Roxbury, Somerville and Hyannis have entered into a special partnership with researchers at HMS and beyond. Through innovative use of digital media technologies, the health centers will explore new communication approaches for reaching patients and families in traditionally underserved populations. This vital health literacy work has been made possible by grants from the Community Engagement Program of Harvard Catalyst, which in 2009 joined with other Boston-area clinical and translational science centers to form the Collaborative for Community Engagement and Research (CCER). "We are delighted to be combining forces with this diverse set of community-based providers and their patients," said Alexa McCray, HMS associate professor of medicine and director of the CCER Public Communication Initiative. "Together we will develop successful models for communicating effectively about health and relevant research—an essential part of translating scientific discoveries into improved human health." For more information, visit connecttoresearch.org.
Library's History of Medicine Center Renews Website
The Center for the History of Medicine at Countway Library has launched a new website designed to meet the specific needs of its audience and encourage conversation and interactivity. The new site includes announcements of symposia, lectures, exhibit openings and other special events; notices of collections newly opened to research; information about new acquisitions; deadlines for fellowship program applications; and opportunities to interact with the history of medicine community. A blog with comment features allows users to share their thoughts and questions. Visit the new site at https://www.countway.harvard.edu/menuNavigation/chom.html.
Guggenheim Goes for Research on Latin Women and AIDS
Arachu Castro, HMS assistant professor of social medicine, recently received a Guggenheim Fellowship for study of women and AIDS in Latin America. Castro's research focuses on how social inequalities affect risk for pathologies common among the poor and how health policies may alter the course of epidemic disease and other pathologies afflicting people living in poverty. Guggenheim fellowships are awarded to individuals who have demonstrated exceptional achievement and promise in the arts and sciences. Spanning from six months to one year, the fellowships are provided with no strings attached, so fellows can use the funds in a way that best supports their work.
Harvard Medicine magazine launches
The inaugural issue of Harvard Medicine— formerly known as the Harvard Medical Alumni Bulletin—explores the five senses and beyond.
2010 Staff Award Honors Service at Countway
Elizabeth Bueso, an accounting assistant at the Countway Library of Medicine, has received the Dolores J. Brown Staff Award for outstanding service, demonstrated respect for HMS and its mission, and commitment to creating a welcoming and inclusive work environment. Bueso, who provides finance and office support for the library and the Center for Biomedical Informatics, was one of 16 HMS staff members nominated for the award. The prize recognizes an exceptional staff member who exemplifies the spirit and commitment demonstrated by Dolores Brown, who was a longtime assistant to HMS dean Daniel Tosteson. The honor was announced by the HMS Office of Human Resources and the Dolores J. Brown Award selection committee.
Sustainability Leaders Given Green Carpet Treatment
Six members of the HMS community were among those honored at the first annual Green Carpet Awards, which recognize Harvard faculty, students and staff for contributions to reducing greenhouse gas emissions and promoting sustainability at the University. The celebration included entertainment from the LowKeys, a Harvard a capella group; screenings of the entries in a film contest, and the presentation of student sustainability grants.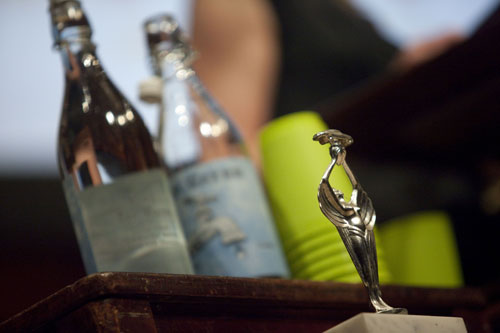 Among the 52 winners in the individual achievement category were HMS students Erin Bettendorf, Devan Darby and Kelsey Leonardsmith, who were honored for their leadership in the organization Students for Environmental Awareness in Medicine (SEAM, see story); Lee Holmes, a PC and network administrator at HMS, who was recognized for installing a power-saving application on the computers he manages; Katrina Rudnick, ICCB coordinator of operations, who was honored for piloting the Lab Sustainability Assessment and Certification program currently in development at HMS and assessing her own lab for ways to increase sustainability; and Jennifer Bellows, an executive assistant in Financial Operations and Analysis, who received an award for heading an HMS Green Team and for consistently ensuring that her department engages in sustainable practices.
In the team awards, the HMS-based Seeding Labs, which collects and distributes used lab equipment to researchers in developing countries, received an honorable mention in the student project category.
Model Mentors Recognized
The Office for Diversity and Community Partnership has announced the winners of the 2009–2010 Excellence in Mentoring Awards and will present them on June 1 from 4:30 to 6:00 p.m. in the Carl Walter Amphitheater. A reception will follow in the TMEC atrium. Please RSVP to rebecca_poe@hms.harvard.edu or 617-432-3020. This year's honorees appear below.
William Silen Lifetime Achievement in Mentoring Award
Anne Klibanski, the Laurie Carrol Guthart professor of medicine at HMS and Massachusetts General Hospital
Lewis Lipsitz, HMS professor of medicine at Beth Israel Deaconess Medical Center
John Butler Mulliken, HMS professor of surgery at Children's Hospital Boston
A. Clifford Barger Excellence in Mentoring Award
Juan Celedón, HMS associate professor of medicine at Brigham and Women's Hospital
Constance Cepko, HMS professor of genetics
Steven Freedman, HMS professor of medicine at BID
Susan Pories, HMS assistant professor of surgery at BID
Steven Safren, HMS associate professor of psychology in the Department of Psychiatry at MGH
Steven Shea, HMS associate professor of medicine at BWH
Christina Wee, HMS associate professor of medicine at BID
Young Mentor Award
Charles Day, HMS assistant professor of Orthopedic Surgery at BID
Ara Nazarian, HMS instructor in orthopedic surgery at BID
Dost Ongür, HMS assistant professor of psychiatry at McLean Hospital
Wanda Phipatanakul, HMS assistant professor of pediatrics at CHB
Mark Puder, HMS associate professor of surgery at CHB
Rochelle Walensky, HMS associate professor of medicine at MGH
New Appointments to Full Professor
The following faculty members were appointed to a full professorship in winter and spring
Piero Anversa
Professor of Anesthesia
Brigham and Women's Hospital
Research in Anversa's laboratory has challenged the paradigm that the heart is a postmitotic organ characterized by a predetermined number of parenchymal cells, defined at birth and preserved throughout life till death of the organ and organism. The work he and his colleagues have conducted in the last 20 years has led to the recognition that the heart is an organ permissive for myocardial regeneration, which can be mediated by exogenous progenitor cells, endogenous progenitor cells or both. Recently, they have documented that the adult human heart contains a compartment of resident stem cells responsible for cardiac homeostasis and repair. These cardiac stem cells are currently employed in a phase I clinical trial in patients with chronic ischemic cardiomyopathy.
Michael Cunningham
Professor of Otology and Laryngology
Massachusetts Eye and Ear Infirmary
Cunningham is director of the Division of Pediatric Otolaryngology at the Massachusetts Eye and Ear Infirmary, with particular clinical interests in congenital head and neck masses, vascular tumors and malformations, and pediatric sinus disease. His principal academic focus is education, locally as director of the Harvard Residency Program in Otolaryngology and nationally on the otolaryngology Residency Review Committee of the Accreditation Council for Graduate Medical Education. His current educational research project is the ongoing development of a clinical practice instrument to more objectively assess surgical resident competence in an oral board examination setting.
Merit Cudkowicz
Professor of Neurology
Massachusetts General Hospital
Cudkowicz's research and clinical activities are dedicated to study and treatment of patients with neurodegenerative disorders, in particular, amyotrophic lateral sclerosis (ALS) and Huntington's disease. Her major research focus is on developing novel treatments of these disorders. She is one of the founders and leaders of the Northeast ALS Consortium (NEALS), a group of 92 clinical sites in the United States and Canada dedicated to performing collaborative academic led clinical trials in ALS. In conjunction with the NEALS consortium, she designs and conducts human clinical trials to evaluate the safety and effectiveness of therapies that have shown promise in preclinical studies. Her other areas of research include epidemiology and biomarker development. She collaborates with a wide range of investigators in biostatistics, translational science and clinical investigation.
Robert D'Amato
Professor of Ophthalmology
Children's Hospital Boston
D'Amato's research focuses on the genetic control of angiogenesis, the process of new blood vessel growth, and the development of novel angiogenesis inhibitors. He has discovered several angiogenesis inhibitors that are now FDA approved for the treatment of cancer. Over the past decade, he has studied the presence of inherited genetic alterations that significantly influence the angiogenic response in mice. By identifying the genetic determinates of angiogenic responsiveness, he hopes to better understand and regulate angiogenesis-dependent diseases such as age-related macular degeneration and cancer.
Thomas Dodson
Professor of Oral and Maxillofacial Surgery
Massachusetts General Hospital
Dodson is recognized for his patient-oriented research and his teaching of evidence-based clinical practice and clinical investigation. His work has played an important role in the management of third molars and has spurred debate on social issues including mandatory seatbelt laws, management of HIV-positive patients, and domestic violence. He is active in evaluating risks and repair of nerve injury, management of giant cell tumors, and bisphosphonate-related osteonecrosis of the jaws.
Carlos Fernández-del Castillo
Professor of Surgery
Massachusetts General Hospital
Fernández-del Castillo's laboratory research has focused on mechanisms and treatment of acute pancreatitis, models of pancreatic carcinogenesis, and the molecular genetics of mucin-producing neoplasms of the pancreas. He is an internationally recognized expert in pancreatic surgery, pancreatic cancer, necrotizing pancreatitis and management of cystic neoplasms of the pancreas.
Anne Fulton
Professor of Ophthalmology
Children's Hospital Boston
Fulton investigates the development of fundamental processes in infants' retinal photoreceptors and post-receptor retina. The work defines the limits of normal parameters that summarize these processes and provides license for discoveries of the molecular and cellular bases for a wide range of disorders that afflict pediatric patients.
Elizabeth Henske
Professor of Medicine
Brigham and Women's Hospital
Henske is a medical oncologist and basic scientist. Her research focuses on the pathogenesis of tuberous sclerosis complex (TSC), lymphangioleiomyomatosis (LAM) and related genetic diseases, including kidney cancer. The Henske laboratory studies yeast, fly, cell and mouse models of TSC and LAM, utilizing multiple approaches ranging from genetics and biochemistry to metabolism and cellular signaling. Henske is the founding director of the BWH Center for LAM Research and Clinical Care, where she is working to bridge the gap between basic science discovery and the development of effective therapeutic strategies for women with LAM.
Paul Huang
Professor of Medicine
Massachusetts General Hospital
Huang's research focuses on the roles of nitric oxide (NO) in cardiovascular disease and physiology, using genetically altered animal models. He is studying how the metabolic abnormalities seen in diabetes and obesity affect vascular function and predisposition to cardiovascular disease, including stroke and heart attack. Huang is director of the Cardiac Metabolic Syndrome Program in the MGH Cardiovascular Disease Prevention Center. He leads several translational research studies in the MGH Heart Center on genotype/phenotype correlations for glucose tolerance and vascular dysfunction, and generation of induced pluripotent stem cells from patients with susceptibility or resistance to vascular disease.
David Hunter
Professor of Medicine
Brigham and Women's Hospital
Hunter's research focuses on the discovery of genetic variants related to breast and prostate cancer and other chronic disease phenotypes, through the application of genomewide association studies in large population-based cohort studies. He works on gene–environment interactions and the application of this knowledge to prediction of disease risks, in collaboration with many others in the Longwood area and international consortia. Hunter is also the dean for academic affairs at HSPH.
Elliot Israel
Professor of Medicine
Brigham and Women's Hospital
Israel's research focuses on asthma pathobiology and pharmacotherapeutics.  He has worked on evaluating the role of leukotrienes in asthma and defining the critical role of these agents in aspirin-induced asthma. His work enabled the introduction of leukotriene modifiers in the treatment of asthma. His more recent research focuses on asthma pharmacogenetics, particularly as it relates to the use of beta-adrenergic agents in the treatment of asthma and obstructive diseases.
Ik-Kyung Jang
Professor of Medicine
Massachusetts General Hospital
Jang's research focus has evolved from the pathogenesis and improved management of acute myocardial infarction to the prevention of acute coronary syndromes and sudden cardiac death. He has demonstrated the crucial role of platelets in the sensitivity of the thrombus to thrombolysis, which provided the groundwork for future research of platelet inhibition therapy for acute coronary syndromes. He has also demonstrated the role of thrombin in thrombosis and thrombolysis and validated the "thrombin hypothesis." He has organized and conducted international, multicenter clinical studies as a principal investigator to improve the treatment of patients with acute myocardial infarction and pioneered a new field of detection of vulnerable coronary plaques using optical coherence tomography (OCT).
Daniel Jones
Professor of Surgery
Beth Israel Deaconess Medical Center
Jones's clinical and research work focuses on minimally invasive surgery, bariatric surgery and technical skill acquisition. His bench work has led to the development of novel endoscopic operations, better task-training models and surgical simulators. Other research has had impact in a variety of arenas, such as tumor implantation during pneumoperitonium, accuracy of laparoscopic radiofrequency ablation, and technical advances of new operations such as laparoscopic gastric banding and bypass. Collaborative efforts have worked toward establishing best practices, improving patient safety, simulation research in crisis management and team training and assessment of competency.
Jeffrey Katz
Professor of Medicine and Orthopedic Surgery
Brigham and Women's Hospital
Katz is director of the Orthopedic and Arthritis Center for Outcomes Research at Brigham and Women's Hospital. He is principal investigator and director of the NIH-funded Multidisciplinary Clinical Research Center at the hospital and principal investigator of MeTeOR (meniscal tears in osteoarthritis research), an NIH-funded multicenter trial of the efficacy of arthroscopic partial meniscectomy in patients with symptomatic meniscal tear and concomitant osteoarthritis. Katz is also course director for Introduction to Clinical Epidemiology, the flagship course of the Program for Clinical Effectiveness at HSPH. A practicing rheumatologist at BWH, he is the author of more than 280 peer-reviewed publications as well as Heal Your Aching Back, a book on back pain for the lay public published by McGraw Hill.
Vicki Rubin Kelley
Professor of Medicine
Brigham and Women's Hospital
Kelley's research has focused on the intrarenal elements of immunity and inflammation with an emphasis on the mechanisms and factors instrumental in autoimmune lupus nephritis. Her expertise centers on in vivo mouse models, and her overall strategy has been to use molecular, cellular, immunologic and genetic approaches to dissect pathogenesis and identify therapeutic targets. Much of her emphasis is on the impact of macrophages and their principal developmental molecule, CSF-1, during kidney inflammation leading to injury and to replenishing damaged resident cells. Currently, her laboratory is probing for the molecular mechanisms of sunlight-incited macrophage-mediated lupus and investigating the mechanisms central to leukocyte-driven autoimmune myocarditis.
Igor Koralnik
Professor of Neurology
Beth Israel Deaconess Medical Center
Koralnik is the director of the HIV/Neurology Center at BID, where he cares for HIV-infected patients with neurological problems, and for HIV-negative patients with infectious diseases of the nervous system. His research focuses on the pathogenesis of the human polyomavirus JC (JC virus). This pathogen infects most healthy adults without causing disease, but does lead to a deadly demyelinating disorder of the brain called progressive multifocal leukoencephalopathy (PML) in immunosuppressed individuals and patients with autoimmune diseases treated with novel immunomodulatory medications. His group has characterized the cellular immune response against JC virus and showed that it was associated with increased survival in PML patients. He is now collaborating with other investigators at BID and Dana-Farber Cancer Institute to develop immunotherapies for this disease. In addition, his group has characterized two novel clinical entities caused by the infection of cerebellar neurons and cortical pyramidal neurons by mutated strains of JC virus. These diseases, distinct from PML, have been called JC virus granule cell neuronopathy (JCV GCN) and JC virus encephalopathy (JCVE). He is conducting studies related to the mechanisms of latency, reactivation and pathogenesis of these JC virus variants.
Meryl LeBoff
Professor of Medicine
Brigham and Women's Hospital
LeBoff is director of the Skeletal Health and Osteoporosis Center and Bone Density Unit at Brigham and Women's Hospital; she founded the unit in 1987. As an endocrinologist she specializes in osteoporosis and metabolic bone disease. Her research focuses on causes of secondary osteoporoses and skeletal health across the life cycle from young adulthood to extreme old age; risk factors for osteoporosis (including low vitamin D levels, hormonal modifiers on bone, and medical disorders or therapies that lead to low bone mass); approaches to imaging bone structure and architecture; genetics of osteoporosis and effects of aging and vitamin D insufficiency on bone and muscle function. From evidence of a high prevalence of vitamin D deficiency in women admitted to BWH with hip fractures, she has advanced the care of hip fracture patients with implementation of an inter-disciplinary fracture pathway in what is now called the Brigham Fracture Intervention Team pathway or "B-FIT."
Francis Luscinskas
Professor of Pathology
Brigham and Women's Hospital
The focus of research in the Luscinskas lab is to understand the mechanisms of leukocyte recruitment in the context of the innate and adoptive immune systems, focusing on the role of the peripheral vascular endothelium as an active participant in this process. His lab is located in the Center for Excellence in Vascular Biology at BWH and employs in vitro live-cell imaging approaches to study the dynamic behavior of endothelial cell molecules critical to the process of leukocyte diapedesis. These observations direct focused studies in appropriate in vivo animal models.
Christos Mantzoros
Professor of Medicine
Beth Israel Deaconess Medical Center
Mantzoros's research focuses on obesity and its complications such as diabetes, cardiovascular disease and malignancies. The Mantzoros group uses basic research, epidemiology and translational/clinical research tools to elucidate the physiology, pathophysiology and therapeutic potential of adipokines in humans. Among other discoveries, Mantzoros demonstrated for the first time the role of leptin in mediating the neuroendocrine response to energy deprivation in humans and subsequently identified leptin's therapeutic significance in low-leptin states including lipodystrophy and "the female triad" in strenuously exercising women athletes. Finally, INT 131, a medication being developed by a start-up company Mantzoros cofounded has just received phase II clearance from the FDA and is now ready for phase III clinical trials for type 2 diabetes in humans. Mantzoros is also a professor in the Department of Environmental Health at HSPH and was recently named chief of endocrinology, diabetes and metabolism at the VA Boston Healthcare system.
Eleftheria Maratos-Flier
Professor of Medicine
Beth Israel Deaconess Medical Center
Maratos-Flier is interested in the regulation of energy balance and factors that control feeding behavior and energy expenditure. One focus is the role of the hypothalamic neuropeptide melanin-concentrating hormone (MCH). Maratos-Flier first identified the role of MCH as a feeding peptide more than 10 years ago and has since shown that it plays a role in regulating metabolism. More recent studies have examined effects on motivated behavior. Her lab is also interested in primary effects of diet on gene expression and thereby on metabolism. By studying effects of diet on the liver, she and her colleagues identified a role of fibroblast growth factor 21 as a regulator of lipid oxidation and are expanding these studies to understanding dysregulation of both FGF21 action and fatty liver in obesity. Most of her studies are performed in mouse models, but recently she has directed attention to human studies and has been able to show that in humans FGF21 reflects lipid accumulation in the liver.
Tanya Mayadas
Professor of Pathology
Brigham and Women's Hospital
The Mayadas laboratory focuses on understanding the mechanisms of neutrophil recruitment and activation in IgG-mediated autoimmune diseases, particularly the role of specific adhesion receptors and associated signaling pathways in the pathogenesis of diseases such as glomerulonephritis. Her other area of research involves the elucidation of molecular mechanisms of cyclic AMP–dependent endothelial barrier function.
William Milberg
Professor of Psychology in the Department of Psychiatry
VA Boston Healthcare System
Milberg's work focuses on how the biological context of normal aging and disease affects brain organization and cognition. Currently, his Geriatric Neuropsychology Laboratory, based at VA Boston Healthcare, includes studies of how risk factors for vascular disease can have predictable and specific effects on cortical and subcortical regions using advanced structural neuroimaging techniques coupled with detailed analyses of cognitive function and physiology. He also now codirects a new VA Rehab Research and Development Center of Excellence to study the joint effects of brain injury and stress disorders in military veterans.
Michael Millis
Professor of Orthopedic Surgery
Children's Hospital Boston
Millis's clinical and research interests focus on how certain pediatric hip conditions and anatomic variants lead to osteoarthritis of the hip. His development of the Adolescent and Young Adult Hip Unit at Children's Hospital has led to internationally recognized multidisciplinary efforts to optimize hip-preserving surgical treatments of hip dysplasia and related deformities.
Elizabeth Nabel
Professor of Medicine
Brigham and Women's Hospital
Nabel's research focuses on the molecular genetics of cardiovascular disease. She has delineated the mechanisms by which cell cycle and growth factor proteins regulate the proliferation of vascular cells in blood vessels, a process important for the development of atherosclerosis and other cardiovascular diseases. Her current work has focused on the rare premature-aging disorder Hutchinson-Gilford Progeria Syndrome, in which she has characterized the smooth-muscle cell defect leading to premature heart attack and stroke in children in their early teens. Nabel, a cardiologist, is president of Brigham and Women's Hospital.
Stuart Quan
Professor of Medicine
Brigham and Women's Hospital
Quan's research is focused on the epidemiology of sleep disorders, particularly sleep-disordered breathing and sleep-related gastroesophageal reflux. He has been involved in a number of nationwide as well as local epidemiologic studies and clinical trials related to sleep disordered breathing in adults and children. Other interests include education of health professionals and the public on the importance of sleep health in prevention of disease and improvement in quality of life. He is the editor of the HMS Division of Sleep Medicine's Sleep and Health Education Program and the Journal of Clinical Sleep Medicine, as well as an active sleep clinician affiliated with BWH.
Detlef Schuppan
Professor of Medicine
Beth Israel Deaconess Medical Center
Schuppan is an attending gastroenterologist and hepatologist and director of the Liver and Celiac Disease Research Centers at BID. His research focuses on liver cirrhosis and celiac disease. In particular, his group studies the basic mechanisms of liver inflammation and fibrogenesis, the development of noninvasive tools (serum markers and quantitative imaging) to assess liver fibrosis and fibrogenesis, and the development and clinical validation of antifibrotic therapies. He and his colleagues also study the mechanisms of intestinal inflammation in celiac disease, especially the role of innate and adaptive immunity, the development of celiac disease activity markers in the blood, and the development and validation of novel therapies. These research foci also cover late complications of cirrhosis and celiac disease, such as liver cancer and intestinal lymphoma.
Ellen Seely
Professor of Medicine
Brigham and Women's Hospital
In her research, Seely emphasizes cardiovascular endocrinology in women, particularly during pregnancy and menopause. She studies the role of pregnancy complications in unmasking cardiovascular risk and also works to develop a safer way to deliver hormone treatment to postmenopausal women. Seely has established the Unique Cardiovascular Risk Factors in Women Research and Mentoring Program, which seeks to better understand cardiovascular risk factors specific to women as well as to train future clinical investigators.
David Shahian
Professor of Surgery
Massachusetts General Hospital
Shahian's research has focused on identifying optimal methodologies for assessing healthcare performance, including both process measures and risk-adjusted outcomes; the risks, benefits and best strategies for public reporting of healthcare outcomes; composite healthcare performance measures, both for individual conditions and hospitalwide; and the volume–outcome association. Much of this research has been performed in collaboration with Sharon-Lise Normand at the Department of Health Care Policy at HMS. This work has been applied to the development and implementation of a successful Massachusetts public reporting system for coronary artery bypass graft surgery and percutaneous coronary interventions. It has also contributed to the design of a comprehensive quality measurement program for the Society of Thoracic Surgeons.
A. Gregory Sorensen
Professor of Radiology and Health Sciences and Technology
Massachusetts General Hospital
Sorensen has focused on translating advances in neuroimaging to clinical neuroscience problems, particularly acute ischemic stroke and treatment of glioblastoma. He has especially explored the role of the MRI diffusion–perfusion mismatch in human acute stroke, working with physicists and engineers to implement new techniques that shed light into mechanisms of injury. He has also extended and applied advanced imaging methods to evaluate the effects of antiangiogenic treatments in glioblastoma. He is currently working on additional novel neuroimaging approaches in humans including simultaneous MR–PET imaging and collaborates with neurology and neuro-oncology teams.
Kenneth Tanabe
Professor of Surgery
Massachusetts General Hospital
Tanabe's laboratory research focuses on hepatocellular transformation. He has demonstrated the importance of the EGF–EGFR pathway in hepatocellular transformation and has developed approaches to prevent transformation in the setting of cirrhosis. Tanabe also conducts research in gene therapy for primary and secondary liver tumors. He has developed HSV-1 mutants that replicate preferentially in liver tumor cells compared to normal liver and integrated therapeutic transgenes into these mutants. A clinical trial of HSV-1 mutants based on his preclinical studies is active at MGH.
Conrad Wall III
Professor of Otology and Laryngology
Massachusetts Eye and Ear Infirmary
Wall's research focuses on prostheses for balance including acute electric stimulation experiments in humans, and noninvasive devices with body-mounted motion sensors to let subjects control their body sway using vibrotactile feedback. His other areas of research include sensory interaction of motion with vision, tests of human posture and gait, and the application of multivariate analysis to vestibular-function testing. He has collaborated with a wide range of international and national investigators and chairs the national standards committee on vestibular-function testing.
Johannes Walter
Professor of Biological Chemistry and Molecular Pharmacology
Harvard Medical School
Walter's laboratory studies how cells copy their genetic information during the S phase of the cell cycle and how this process goes awry in the human cancer predisposition disorder Fanconi anemia. In particular, the lab seeks to understand the molecular machines that carry out DNA synthesis, how cells avoid replicating any section of the chromosome more than once, and how the DNA replication apparatus promotes DNA repair when it encounters DNA damage.
Patrick Wen
Professor of Neurology
Brigham and Women's Hospital
Wen's research focuses on developing more effective therapies for pati  ents with brain tumors, especially those with high-grade gliomas and meningiomas. He conducts clinical trials involving primarily targeted molecular agents and antiangiogenic therapies. His other areas of research include optimal assessment of response and endpoints in brain tumor trials and neurologic complications of cancer.
Alan David Woolf
Professor of Pediatrics
Children's Hospital Boston
Woolf's research focuses on epidemiological and clinical studies within pediatric environmental toxicology, especially the analysis of population-based secondary datasets. His other areas of research include health services research into poison control, poisoning-related hospitalizations, metals toxicology and the treatment and prevention of toxic exposures both in children and adults. Woolf has collaborated with a wide range of scientific investigators both in public health and medicine. At HMS, he will continue to pursue research in medical and environmental toxicology.
Notable
The VA Boston presented the Kevin Rys Award to Marie Fairbanks, HMS administrative coordinator at the VA Medical Center in Brockton. The award recognizes administrators who help make research at the Boston VA work for the greater good of the investigators, research participants and research staff. The award is named after Kevin Rys, a member of the research administration staff who passed away in 2008. Fairbanks was presented with the award last month.
The members of the American Association for Cancer Research have elected Judy Garber, HMS associate professor of medicine at Brigham and Women's Hospital, as president-elect. She will serve in this role for one year, after which she will be inaugurated as president. In addition, Todd Golub, HMS professor of pediatrics at Children's Hospital Boston, and Kornelia Polyak, HMS associate professor of medicine at Dana-Farber Cancer Institute were both elected to the association's board of directors.
Laurence Ronan, HMS instructor in medicine and director of the Thomas S. Durant Fellowship in Refugee Medicine at Massachusetts General Hospital, has received the first annual Dr. Jim O'Connell Award from the Boston Health Care for the Homeless Program (BHCHP). The award honors someone who embodies the spirit of the program by providing medical care to the underserved. The award is named after the program's founding physician and HMS clinical instructor in medicine at MGH, James O'Connell. Ronan received the award at BHCHP's Medicine that Matters gala in April.
Rochelle Walensky, HMS associate professor of medicine at Massachusetts General Hospital, has received the Stephen Krane Award from the hospital's Department of Medicine. The Krane Award recognizes leading young investigators in the department.
In Memoriam
Robert Ojemann, HMS professor emeritus of surgery at Massachusetts General Hospital, died on March 3. He was 78.
Ojemann graduated from the University of Iowa College of Medicine in 1955 and joined the HMS community in 1957 as a resident in neurosurgery at MGH. He went on to become one of MGH's most respected neurosurgeons and remained at the hospital for more than four decades. He was promoted through the ranks at HMS and appointed professor of surgery in 1979. He served in this capacity until retiring as professor emeritus in 2008.
During his academic career, Ojemann served as president of the American Academy of Neurological Surgeons, American Association of Neurological Surgeons, Congress of Neurological Surgeons and Society of Neurological Surgeons. He was also chairman of the American Board of Neurological Surgery and the Residency Review Committee for Neurological Surgery.
He received prominent awards in his specialty, including the Cushing Medal from the American Association of Neurological Surgeons in 1997, Honored Guest of the Congress of Neurological Surgeons in 1992 and the Distinguished Service Award from the Society of Neurological Surgeons in 2001.
Ojemann is survived by his wife of 54 years, Jean; sons, David, of Harvard; James, of Sandown, N.H.; Michael, of Concord; and John, of Carlisle; and seven grandchildren.
Memorial services were held. Contributions in Ojemann's memory may be directed to the Robert G. and Jean A. Ojemann Professorship in the Department of Neurosurgery at Massachusetts General Hospital, the Salvation Army or the Trinitarian Congregational Church of Wayland, Mass.