News
Proceedings of the HMS Faculty Council
Jeffrey Flier, HMS dean, began the Jan. 16 Faculty Council meeting by calling for a minute of silence in memory of Judah Folkman, who died Jan. 14.
He then called on David Torchiana, HMS associate professor of surgery, to make a presentation on workforce housing. Torchiana gave an overview of the housing situation in Boston as compared to other U.S. cities with leading medical schools. Boston's cost of living is highest and availability of housing is lowest among all the cities considered, making it difficult for postdoctoral fellows to rent housing and for junior faculty to buy housing in the area. He presented several possible solutions, including an information clearinghouse to help fellows and residents find housing; lease guarantees such as the one currently used by Partners; and financial incentives such as signing bonuses and relocation assistance. He also discussed the possibility of institutions building more housing for its junior faculty and fellows, following a model already implemented by MIT.
Jules Dienstag, HMS dean for medical education, then spoke about the changes facing the Academy with the departure of former director George Thibault. The Academy should broaden its scope to provide training in teaching skills for the entire faculty, he said, adding that HMS faculty, rather than professional educators, should lead these efforts.
Charles Hatem, HMS professor of medicine at Beth Israel Deaconess Medical Center and current head of the Academy Center for Teaching and Learning, observed that the Academy should provide a centrality of teaching and learning for students, residents, and faculty, including Quad-based faculty. He noted that the Academy should also consult and collaborate with the hospitals to improve teaching there.
There was some discussion about the Academy's role in promoting the scholarship of education. Ellice Lieberman, HMS dean for faculty affairs, explained that the new promotion criteria reward teaching and educational scholarship, which is broadly defined. Additional discussion by the council focused on the potential models for the Academy and the availability of funding.
Flier then updated the members briefly on the strategic planning process and called on Thomas Michel, HMS professor of medicine at Brigham and Women's Hospital, to update the members on the work of the educational advisory subcommittee examining this issue.
Michel explained that the subcommittee has developed six top priorities for educational change. These include expansion of scholarship requirements for medical students; globalization of HMS medical education; establishment of a "continuum of education" across HMS, Harvard, and HMS-affiliated hospitals; development of a "culture of teaching" at HMS and the hospitals; reduction of the debt burden on medical students; and an increase in diversity in all aspects of HMS education.
HMS Researcher Takes 'Korean Nobel'
Charles Lee, HMS assistant professor of pathology at Brigham and Women's Hospital, has won the 2008 Ho-Am Prize in Medicine, which is often referred to as the Korean Nobel Prize and recognizes achievements in science, engineering, the arts, and community service in addition to medicine. Lee, who at age 38 is the youngest Ho-Am Laureate in Medicine, was honored for his work in human structural genomic variation. In 2004 Lee discovered that the human genome, once thought to be nearly identical from person to person, actually varies significantly among healthy individuals. Lee went on to cofound an international research consortium, with scientists from Sick Children's Hospital Toronto and the Sanger Center Institute UK, to develop a map of copy number variants (CNVs) for the human genome. Now scientists are exploring the relationship of CNVs to increased susceptibility to AIDS, autoimmune diseases, and some forms of cancer. In 2007, Science called human genetic variation the "breakthrough of the year."
The Ho-Am Prize in Medicine will be presented in Seoul, South Korea, on June 3, and includes a laureate diploma, a gold medal, and 200 million Korean won (approximately $200,000).
$11m Grant Will Probe Social Context of Health
The National Institute on Aging has awarded an $11 million program project grant to Harvard researchers to study the role social contexts play in health and health care. The Networks and Neighborhoods project is led by principal investigator Nicholas Christakis, HMS professor of medical sociology in the Department of Health Care Policy. It consists of eight independent but thematically related research projects and three cores to support the research.
Some of the topics being studied include the evaluation of social network data from the Framingham Heart Study to learn how health behaviors like smoking and drinking spread from person to person, and how the use of genes as instrumental variables might clarify relationships in this data. Topics also include the influence of geography on cancer course; the relationship between civic engagement and health; and the development of novel statistical methods to evaluate the correlations between individuals in social network data.
Two of the three cores will provide administrative and data organization and consultation support. The third is a junior faculty development program that will also include postdoctoral training.
Researchers from HMS who are leading individual projects and cores are Christakis; Elizabeth Lamont, assistant professor of medicine at Massachusetts General Hospital and assistant professor of health care policy; Bruce Landon, professor of medicine at Beth Israel Deaconess Medical Center and associate professor of health care policy; A. James O'Malley, associate professor of health care policy; Alan Zaslavsky, professor of health care policy (statistics); and Thomas McGuire, professor of health economics in the Department of Health Care Policy.
Call for Diversity Award Candidates
Nominations are being sought for the 2008 Harold Amos Faculty Diversity Award and the Sharon P. Clayborne Staff Diversity Award, which recognize HMS and HSDM faculty and staff who have made major contributions to increasing the diversity of the HMS and HSDM community. Faculty nominees must be based at HMS, HSDM, or an HMS-affiliated hospital, and staff nominees must work directly for HMS or HSDM. The deadline is May 9. For more information, contact Nancy Kaufman at nancy_kaufman@hms.harvard.edu or 617-432-1037.
Conferences Put Science on Stage, Draw Hundreds Toward Health Careers
The April 6 New England Science Symposium showcased the work of postdoctoral fellows, medical and dental students, and undergraduate and graduate students studying biomedical and health-related sciences. Cosponsored by the HMS Minority Faculty Development Program and the Biomedical Science Careers Program, the symposium provided 323 participants, including 12 oral presenters and 115 poster presenters, an opportunity to share their work and exchange ideas. The participants, many of whom were African-American, Hispanic, or Indian/Alaska Native, represented 120 institutions.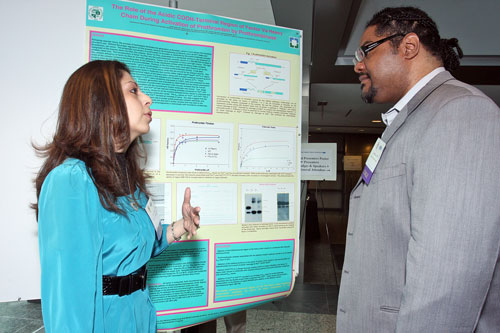 The Ruth and William Silen, MD, Awards were presented to the first, second, and third place winners of both the oral and poster presentations. The winners in the oral presentation category were Vadim Villarroel, first place; Eydith Comenencia Ortiz; second place; and Theophelus Hill, third place. In the poster presentation category, they were Bryan Webb, first place; Sara Tribune, second place; and Escar Kusema, third place. The keynote speaker at the program was Marc Kirschner, the Carl W. Walter professor of systems biology at HMS and head of that department.
During that weekend, the Minority Faculty Development Program and the Biomedical Science Careers Program also sponsored the annual Biomedical Science Careers Student Conference, which was attended by almost 900 students and fellows from New England and featured workshops and panel presentations geared toward students—from middle schoolers to postdocs—interested in science-related careers.
Brandt Receives Bancroft Prize
Allan Brandt has received the 2008 Bancroft Prize from Columbia University for his book The Cigarette Century: The Rise, Fall, and Deadly Persistence of the Product that Defined America. The Bancroft Prize, which includes an award of $10,000, is given by the trustees of Columbia University to authors of books of "exceptional merit" on the topics of history, biography, and diplomacy. Brandt's book, one of three winners, was selected from a total of 200 nominees. The awards will be presented at a formal dinner this month.
Brandt, the dean of the Graduate School of Arts and Sciences and the Amalie Moses Kass professor of the history of medicine in the Department of Social Medicine at HMS, studies social and ethical aspects of health, disease, and medical practice in the 20th century United States. The Cigarette Century provides a history of the tobacco industry in the U.S. and a discussion of Big Tobacco's imminent incursion into the global market. He is also the author of No Magic Bullet: A Social History of Venereal Disease in the United States Since 1880 and has written on the social history of epidemic disease, the history of public health, and the history of human subject research.
News Brief
The American Gastroenterological Association (AGA) has honored Helen Shields, HMS associate professor of medicine at Beth Israel Deaconess Medical Center; Jacqueline Wolf, HMS associate professor of medicine at BID; and Carla Ginsburg, HMS assistant clinical professor of medicine at Massachusetts General Hospital, as 2008 Outstanding AGA Women in Science. The award recognizes female AGA members for contributions to digestive disease science.
Honors and Advances
Deepak Bhatt, currently at the Cleveland Clinic, will become the new director of the Integrated Interventional Cardiovascular Program at Brigham and Women's Hospital and the VA Boston Health Care System, effective July 1. He will also head the Cardiology Section at the VA Boston.
The Massachusetts Coalition of School-based Health Centers presented the 2008 Outstanding School-based Health Center Supporter Award to Nancy Rappaport, HMS assistant professor of psychiatry at Cambridge Hospital. She was honored for her efforts to provide care to at-risk children.