News
Microbiologist-activist Receives National and International Awards
Jon Beckwith, the American Cancer Society professor of microbiology and molecular genetics at HMS, has recently received two prestigious awards. The National Academy of Sciences presented him with the 2009 Selman A. Waksman Award in Microbiology, which recognizes excellence in microbiology and comes with a $5,000 prize. In addition, the Edinburgh International Science Festival and the City of Edinburgh Council awarded him the 21st Annual Edinburgh Medal, which distinguishes scientists whose professional achievements are judged to have made a significant contribution to the understanding and well-being of humanity. He will deliver the medal address during the festival in Scotland in April.
Beckwith is being honored for his contributions to gene regulation, protein targeting and secretion, disulfide biochemistry, and the development of gene fusions as an experimental tool. He led the team that first succeeded in isolating a gene from the chromosome of a living organism, a major breakthrough in the understanding of the processes of life. He has been outspoken on the topic of ethics and scientific research, particularly criticizing the notion that genes, rather than environment and culture, contribute to social problems like crime and poverty.
Nominations Wanted For Women's Prize In Biomedicine
The Foundation for the History of Women in Medicine is currently accepting nominations for the 2009 Alma Dea Morani, MD, Renaissance Woman Award. The prize honors an outstanding woman physician or scientist in North America who has advanced the practice and understanding of medicine in our lifetime and made significant contributions outside of medicine (for example, in the humanities, arts or social sciences); whose determination and spirit have carried her beyond traditional pathways in medicine and science; and who challenges the status quo with a passion for learning. The deadline for submission of nominations is April 15. More information, including guidelines, nomination forms and past recipient information, can be found at www.fhwim.org or by calling the foundation at 484-945-2106.
Cancer Research Award Recognizes Work on Noncoding RNA
The Damon Runyon Cancer Research Foundation has presented John Rinn, HMS assistant professor of pathology at Beth Israel Deaconess Medical Center, with a 2009 Damon Runyon-Rachleff Innovation Award. The three-year, $450,000 prize is made to early-career researchers who are using "novel approaches to fighting cancer." Rinn's work focuses on large intergenic noncoding RNAs (lincRNAs; see "Noncoding RNA"). Based on earlier research that identified the first lincRNAs—including a molecule called HOTAIR that plays a major role in establishing the identities of skin cells—Rinn proposes to further decipher the workings of these molecules, believing that they may have an important role in tumor function.
"LincRNAs could herald a new paradigm in our understanding of how cancerous cells metastasize," said Rinn. "Defining the roles of these RNA molecules in cancer could open up new avenues for better diagnostics and therapeutics."
Young Harvard Researchers Honored for Leadership
The American Medical Association Foundation has announced the recipients of the 2009 Leadership Awards, including five members of the Harvard community. The awards are presented annually to 15 medical students, 10 residents or fellows, and five early-career physicians in recognition of strong, nonclinical leadership skills in advocacy, community service, public health, or education. Three fellows and one physician from HMS and an HSPH student were recognized.
Peter Byung-Hoon Kang, HMS assistant professor of neurology at Children's Hospital Boston, is interested in medical-financial issues affecting physicians, patients, and the community. He is president of the Suffolk District Medical Society and serves on several committees, including as chair of the Ad Hoc Committee on Medical Student Debt Reduction at the Massachusetts Medical Society. He is also director of the EMG Laboratory at Children's.
Alexander Ding, a clinical fellow in radiology at Massachusetts General Hospital, has held leadership positions in organized medicine at the local, state, and national level and is currently the chair-elect of the Massachusetts Medical Society Resident and Fellow Section. He has published research on defensive medicine, tobacco taxation policy, and physician payment and behavior.
Rosalyn Nguyen, a clinical fellow in physical medicine and rehabilitation at Spaulding Rehabilitation Hospital, is pursuing a career in hospital administration, public health, and disabilities advocacy. She holds leadership roles in several community and medical organizations and is active in Massachusetts Medical Society and AMA committees.
Karen Winkfield, a clinical fellow in radiation oncology at Brigham and Women's Hospital, is seeking to gain greater understanding of the sociocultural values that contribute to disparities in cancer outcomes. In 2008, she was elected to serve as the education and career development officer for the Organization of Minority Residents and Fellows at Massachusetts General Hospital.
Manisha Bahl is currently taking a leave of absence from the University of California, San Francisco School of Medicine, where she is a fourth-year medical student, to pursue an MPH in Healthcare Management and Policy at HSPH. She hopes to be involved in shaping health care policy, since her experiences with preventive health outreach, free clinics, veterans' health care, and local and statewide advocacy have underscored the importance of easy access to care.
Honors and Advances
The MetLife Foundation has honored Michael Wolfe, HMS professor of neurology at Brigham and Women's Hospital, with the Award for Medical Research in Alzheimer's. He is recognized for his research on the production of amyloid-beta, a small protein found in the Alzheimer's brain that may be the fundamental toxic entity initiating the disease. The work has led to the development of new therapies for Alzheimer's.
Dental Students Give Kids a Smile
During three hours on the morning of Saturday, Feb. 7, some 50 local Boston children, aged 1 to 15 years, filled the Harvard Dental Clinic for a free dental exam and teeth cleaning as well as oral health education. Nearly half of the School of Dental Medicine's student body volunteered their time for this annual Give Kids a Smile event, with third- and fourth-year students conducting exams and first- and second-year students assisting, under the supervision of HSDM pediatric dentistry faculty.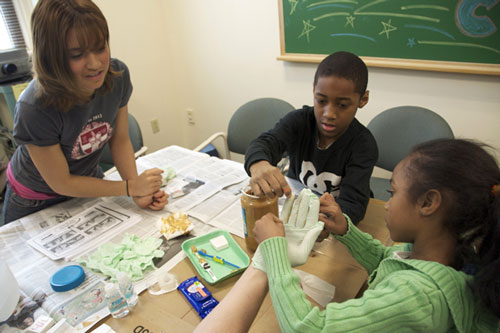 The first- and second-years also created fun ways for the children to learn about oral health, with everything from the Floss Challenge—in which the children smeared peanut butter on a gloved hand then "flossed" in between the fingers (see photo)—to the stuffed dinosaurs with big teeth who helped the children learn about brushing. Students also talked with some of the older youth about the rewards of a career in dentistry.
The event, organized by first-year students Colleen Greene and Rebecca Kibler, brought in children from a variety of Boston neighborhoods and beyond, with several kids participating for the second year in a row. The event was a great success for the kids as well as the students, whose service to Give Kids a Smile always generates the broadest smiles of all.