News
HMS Dean Convenes Committee to Review Conflicts of Interest
HMS dean Jeffrey Flier has announced that he will convene and chair a committee, including faculty and students, to review the current Faculty of Medicine Policy on Conflicts of Interest and Commitment. The committee is charged with reviewing the policy and its principles, provisions, and procedures in relation to interactions faculty members may have with industry that intersect with their responsibilities as members of the Faculty of Medicine.
The HMS committee will work in tandem with and serve as a subcommittee for a University-wide committee being led by David Korn, vice provost for Research, which will develop University-wide recommendations and guidelines for conflict-of-interest policies. The final policy developed by the HMS committee will be reviewed and approved by the HMS Faculty Council and will be submitted to the committee led by Korn for review and approval, consistent with the principles and guidelines for conflict-of-interest policies to be set forth by the University.
As part of the review process, the HMS committee seeks comment on the current policy from interested members of the faculty. Please contact Gretchen Brodnicki, dean for faculty and research integrity, with questions or comments by mail at HMS, 25 Shattuck Street, Gordon Hall 108C, Boston, MA 02115; by telephone at 617-432-2496; by fax at 617-432-0566; or by e-mail at gretchen_brodnicki@hms.harvard.edu. She will share your comments with the committee. Please provide your written comments by Feb. 6.
The current HMS policy can be found in the booklet "Faculty Policies on Integrity in Science," which is mailed periodically to all faculty and available at www.hms.harvard.edu/integrity.
Educator-researcher Will Lead HMS Academy
Richard Schwartzstein was named director of the HMS Academy, succeeding George Thibault, who left HMS last year to become president of the Macy Foundation.
In his new position, Schwartzstein will hold the Ellen and Melvin Gordon Chair for Medical Education and will be a key adviser on the broader aspects of education at HMS. He will work with the School's current educational leadership, including Jules Dienstag, dean for medical education, and David Golan, dean for graduate education, as well as other HMS leaders in graduate medical education and continuing medical education.
Schwartzstein has been an active clinical educator and researcher since he came onto the HMS faculty over 20 years ago. He is an HMS professor of medicine and a senior physician in the Department of Medicine at Beth Israel Deaconess Medical Center, where he has been involved in laboratory and clinical studies of the physiology of dyspnea, or shortness of breath. He sees patients as a practicing pulmonologist and critical care physician at BID, where he serves as associate chief of the Division of Pulmonary and Critical Care Medicine. Schwartzstein is course director of Integrated Human Physiology in the first-year New Pathway curriculum, and he developed the Principal Clinical Experience program at BID for third-year students. He is co-chair of the Year 1 Fundamentals of Medicine Committee and serves as the executive director of the Carl J. Shapiro Institute for Education and Research as well as the vice president for education at BID. In addition to many awards and honors for his teaching at HMS and Beth Israel, Schwartzstein has received prestigious national teaching awards, including the Robert J. Glaser Distinguished Teaching Award from the Association of American Medical Colleges.
Schwartzstein assumes the leadership during a time of transformation for the Academy. In response to recommendations from the Strategic Advisory Group on Education, the Academy will be reborn as the HMS Academy for Teaching Excellence and Educational Innovation. The new HMS Academy will work with educators across the curriculum on innovative methods and technologies to enhance learning and assessment of medical students and graduate students, as well as postgraduate clinical and research trainees, and will provide support for faculty members engaged in educational research. Current activities of the Academy will continue under the leadership of Charles Hatem, the Harold Amos Academy professor at HMS and BID and an HMS professor of medicine at Mt. Auburn Hospital. The new HMS Academy will also work with the HMS teaching hospitals to enhance the educational mission across the entire Harvard Medical School community.
Dohlman Chair Begins with Scientific Vision
Jeffrey Flier, dean of the Faculty of Medicine, opened the Dec. 8 celebration of the Claes H. Dohlman Professorship in Ophthalmology at the Massachusetts Eye and Ear Infirmary HMS praising Dohlman as the founder of modern corneal science. Dohlman (left) is still active at MEEI as a professor emeritus of ophthalmology. Flier also credited Joan Miller for leading the creation of the chair; she is the Henry Willard Williams professor of ophthalmology at MEEI and HMS and head of that department. Before first incumbent Reza Dana (right) stepped to the lectern, the president and CEO of MEEI, John Fernandez, addressed him in a reference to Dohlman, saying "Reza, you have big shoes to fill." And Dohlman, in his turn at the mike, gave a brief retrospective on his development of the Cornea Service at MEEI and a lab for corneal physiology at the Retina Foundation, which became Schepens Eye Research Institute. Dohlman ended with commendation for Dana: "When it comes to research, he is phenomenal," Dohlman said, adding "when it comes to corneal inflammation, he is by far the leader in the world." This high order of praise was echoed by Peter Laibson, an ophthalmology professor at Thomas Jefferson University, who was a fellow of Dohlman's and a mentor to Dana. When Dana addressed the audience, he expressed gratitude to those who had spoken before him and to Joan Miller. He also gave thanks to Wayne Streilein, who at the time of his death in 2004 was president of Schepens. "No single person had more to do with my being here," Dana said. He thanked his family and all the people who have given their support—those "who ask us not to lose hope or focus." He said that he stood before the audience not just as a person but as the bearer of an identity: he was born in Iran. That land is witness to more than 5,000 years of civilization, he said. Cyrus the Great issued the first charter of human rights. This respect for human rights and due process is a beacon to all. How is this related to the Dohlman chair? Dana asked. And he answered that the enduring story of Claes Dohlman, HMS, and the United States is that "all things are possible if done in the right way."
Awards Offered for Clinical Systems Innovation
Pre-proposals for CIMIT Science Grants and Clinical Systems Innovation (CSI) Awards will be accepted through Feb. 15. The CSI program is CIMIT's initiative to improve and advance the systems that support clinical care in real-world healthcare settings. The program provides seed funds to help clinicians and institutions craft novel approaches for implementing a complex new care pathway, designing a new facility, or developing a better process, usually incorporating new technology. Last year, CIMIT chose nearly 40 winning proposals, representing a commitment of $5 million. Applicants may apply in one of two categories: small (up to $40,000 direct cost for one year) and medium (up to $100,000 direct cost for one year). Only a certain number of grants will be given in each category, and applicants are encouraged to request only as much support as is necessary for the planned tasks. Members of submitting teams must be affiliated with one of the consortium institutions that make up CIMIT. For information on how to apply, please go to www.cimit.org.
New Co-director Named for HST
Ram Sasisekharan has been named the new co-director of the Harvard–MIT Division of Health Sciences and Technology (HST).
Professor Sasisekharan's research is highly multidisciplinary, integrating a broad range of technologies for the study of complex polysaccharides that are involved in many disease processes. His work has laid the foundation for the development of novel therapeutics for applications designed to address problems as diverse as stroke and bird flu, leading to the creation of several companies. 
He will share leadership responsibilities with David Cohen, HMS associate professor of medicine and health sciences and technology at Brigham and Women's Hospital. "The integration of science, medicine, and engineering—the founding principle of HST—is at the core of Ram's research," said Cohen. "I look forward to working with him to perpetuate the tradition of excellence within HST and to shape its bright future."
Honors and Advances
Julie Buring, HMS professor of ambulatory care and prevention and of medicine at Brigham and Women's Hospital, was presented with the John Snow Award at the American Public Health Association's annual meeting in October. The award recognizes the contribution of an outstanding epidemiologist for excellence in epidemiological practice or research. Buring was honored for her contributions to the prevention of chronic diseases, particularly cardiovascular disease and cancer and especially among women, and for spearheading the issue of representation of women as participants in clinical trials.
Richard Gelber, HMS professor of pediatrics (biostatistics) at Children's Hospital Boston and Dana–Farber Cancer Institute and HSPH professor of biostatistics, has received the Komen Brinker Award for Scientific Distinction in basic research and clinical research from the Susan G. Komen for the Cure foundation. The award recognizes the efforts of pioneers in two critically important areas of the fight to end breast cancer: clinical research and basic science. Gelber was honored for his use of biostatistics to help interpret clinical trials more quickly and accurately.
The New HMS/HSDM CV: Recognizing the Diversity of Faculty Achievements
The Office for Faculty Affairs will host a presentation on the new HMS/HSDM curriculum vitae format on Friday, Jan. 30, from 12–1 p.m. in the Waterhouse Room on the first floor of Gordon Hall. Maureen Connelly, associate dean for faculty affairs, will review the rationale for updating the CV format, describe the sections that have changed, and offer resources to assist in preparing the CV in the new format. Registration is not required. For more information, contact Jaz Hogan-Donaldson at 617-432-0857.
Presidential Pause on the Quad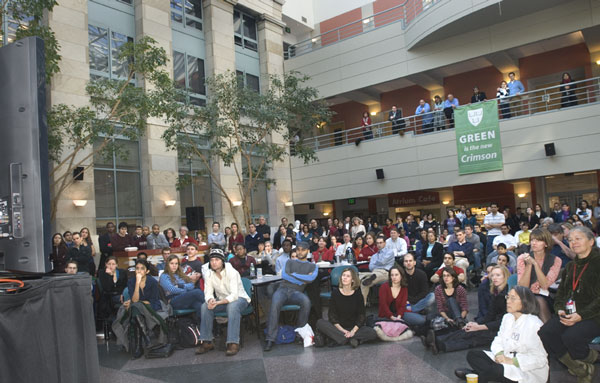 In Memoriam
Raymond Adams, the Bullard professor emeritus of neurology, passed away Oct. 18 at the age of 97.
Adams was born in Portland, Ore., in 1911, and received his undergraduate degree from the University of Oregon. He began his medical career in 1936, receiving his MD from Duke University School of Medicine. He served his internship and first year of residency at Duke University Hospital. He then spent a year in psychiatry at Yale Medical Center and moved to the Neuropathology Laboratories at Boston City Hospital. Adams assumed leadership of the Department of Neurology at Massachusetts General Hospital in 1951. An advocate for the development of subspecialty areas in the field, he created a separate Pediatric Neurology Division.
In the late 1950s, working with a grant from the Joseph P. Kennedy Foundation, Adams helped create the Joseph P. Kennedy Jr. Laboratories at the MGH to support clinical research both in child and adult neurology.  The Kennedy Laboratories became a focal point for research that included the causes and treatment of epilepsy, developmental and chromosomal disorders of the nervous system, muscle disease, multiple sclerosis, cerebrovascular disease, tumors, and the neuropathology of these diseases. Adams also was influential in the creation and administration of the Eunice Kennedy Shriver Research Center and served as its first director; the mission was to investigate nervous system diseases that cause mental retardation.
He held memberships in nmerous medical organizations including the American Neurological Association, the American Association of Neuropathologists, the French Academy of Neurology, and honorary memberships in the British, Lebanese, and Columbian societies of neurology.
He was the author of more than 200 original publications and developed the premier textbook of neurology, Adams and Victor Principles of Neurology. He was the honored recipient of many lectureships and prestigious awards. At the heart of his thinking was a focus on patients and how the physician could better respond to their needs. A beloved mentor to students, residents, fellows, and colleagues, Adams is regarded by many as the father of modern neurology.
"Ray Adams was the most distinguished neurologist of the second half of the 20th century," said former HMS dean Joseph Martin, who took over as chief of the MGH neurology department after Adams retired in 1977.
Adams was predeceased by his wife, Maria Salam-Adams.  He is survived by four children, one step-daughter, numerous grandchildren and great-grandchildren, as well as hundreds of colleagues, friends, and former students. A memorial service is being planned.