News
Clinical Research Network Expands Among Hospitals
A pilot project that allows researchers to query clinical data across institutions is expanding from five Harvard affiliated teaching hospitals to many more hospitals across the United States—enabling researchers to ask new questions about disease and patient care.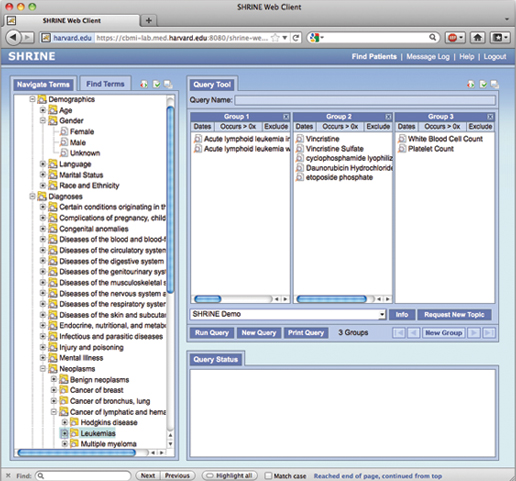 The Shared Health Research Information Network, or SHRINE, part of Harvard Catalyst, the Harvard Clinical and Translational Science Center, was launched in 2010 to help researchers overcome one of the greatest problems in population-based research: compiling large groups of well-characterized patients. By aggregating large numbers of de-identified patients, studies can have greater power and at the same time protect patient privacy. Similarly, studying multiple hospitals in parallel increases the chances that a scientific finding is real and not just a coincidence.
"We can answer questions in seconds that would otherwise take years," said principal investigator Isaac Kohane, professor of Pediatrics and Health Sciences Technology. "Or that you could never even ask."
Talent Pool
Building the network required not only technological innovation but a delicate administrative dance among five hospitals that do not routinely share clinical data for research: Brigham and Women's Hospital, Beth Israel Deaconess Medical Center, Dana-Farber Cancer Institute, Children's Hospital Boston and Massachusetts General Hospital.
"The success of SHRINE is the result of an extraordinary collaboration across the Harvard research community," said Doug MacFadden, program director for SHRINE.
"Patients are treated every day, yet it can be surprisingly difficult to answer even basic questions about how well a medication is working or how often patients are diagnosed with related illnesses," said Andrew McMurry, an informatics team lead at the HMS Center for Biomedical Informatics who helped develop SHRINE. "These clinical data can help us ask better questions on a population scale." The collaboration required the approval of each Institutional Review Board and multiple safeguards to protect the privacy of 6 million patients.
This fall, Kohane, MacFadden, McMurry and their collaborators are working to extend the network to include Michigan Institute for Clinical and Health Research at the University of Michigan; University of Texas Health Science Center at Houston; Wake Forest Baptist Medical Center; Cincinnati Children's Hospital Medical Center; University of California San Francisco Clinical and Translational Science Institute; and the University of Washington. The work is funded through a Harvard Catalyst supplemental grant from the National Institutes of Health.
Authorized researchers at participating institutions can query millions of records to determine the total number of patients who meet a given set of criteria—a combination of demographics, diagnoses, medications and laboratory tests. Because counts are aggregate, patient privacy is protected. SHRINE is a federated system, meaning that each hospital maintains control of its own data.
Boon to Patient Care
Investigators who have used SHRINE call the network not only a powerful engine for research, but also a transformative tool for patient care.
Rebecca Miksad, a gastrointestinal oncologist at Beth Israel Deaconess and HMS assistant professor of medicine, is using SHRINE to find data on cancer treatment and outcomes, which improve every year. McMurry calls Miksad's work translational research at its purest. "She's asking: How long does it take to translate what's known in research to what's done in a clinical care setting?"
At his laboratory at Children's Hospital Boston, Kenneth Mandl, associate professor of pediatrics uses SHRINE to investigate personalized therapies for patients. "Rather than relying on clinical trials data as a source of evidence, the approach is to examine the real-world experience of patients similar to ours," said Mandl, who directs the Intelligent Health Laboratory at the Children's Hospital Informatics Program and is on the Harvard-MIT Division of Health Sciences and Technology faculty. "This is a shift toward using large-scale observational data sets to form the evidence base."
But to underscore the power of SHRINE, Kohane points to one study done without it. Last year, he got a call from a colleague at Stanford, Nicholas Tatonetti, who had noticed a possible link to diabetes among patients prescribed a certain antidepressant-and-statin combination. But Tatonetti didn't have enough patient records at Stanford Medical Center for confirmation, so he reached out to Kohane and a third colleague at Vanderbilt University Medical Center. Sure enough, each researcher noticed the same correlation in their records, and the collaborators published their findings in May.
"That took months and a big Rolodex," Kohane said. "SHRINE takes seconds and a good idea."
To learn more, contact Andrew McMurry at Andrew_McMurry@hms.harvard.edu or visit ­catalyst.harvard.edu/services/shrine.