News
Class of 2016 Takes Up the Mantle

Two hundred new medical and dental students were challenged by Dean Jeffery S. Flier Tuesday to use their years at Harvard Medical School to find new ways to improve how care reaches the suffering as Flier addressed members of the Class of 2016 on White Coat Day.
"This is a time when physicians and scientists will be called upon to demonstrate leadership if society is to tackle some of its toughest problems," Flier, who was in Australia, said by video. "I'm confident you are all up to the challenge."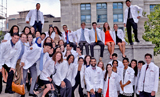 Students heard from HMS leaders before receiving their white coats at ceremonies held at the five student academic societies.
"The donning of the coat," said Dean for Medical Education Jules Dienstag, "signifies a remarkably important transition in your lives. By accepting these coats, you officially step into the world of doctoring and medicine: The beginning of your career in medicine."
The HMS class comprises 87 women and 78 men, from 29 states, nine foreign countries and 71 different undergraduate institutions. 
"You're diverse in every imaginable dimension except one: the promise that you represent to the field of medicine," said Flier. "That is what excites our faculty. They understand what you represent for the future of patient care, research, education and leadership." 
The students were told they represented 3.9 percent of 5,804 HMS applicants.
Dean for Students Nancy Oriol encouraged students to seek out and embrace "boundary turbulence" — a concept from communication theory that she imbued with broader meaning. 
"Great things happen when you step into the turbulence where boundaries become fluid and worlds intermingle," said Oriol. "I think the most exciting changes in medicine right now are where boundaries are being breached. For instance, the traditional silos of medical specialties are giving way to cross-specialty communication and cooperation. The boundaries between the hospital, the clinic and the home have become porous … The seemingly insurmountable barrier between basic science and discovery and bedside cures is among the most fertile areas for scientific inquiry."
Many of the speakers offered advice drawn from their own first days of medical school. Alvin Poussaint, faculty associate dean for student affairs, described his early reluctance to share fears that he might not be cut out for medicine. "Don't be afraid to talk and be a team with your fellow classmates and talk about these things," Poussaint told the students. "Get help if you need it."
Poussaint, the morning's fifth speaker, also made light of the marathon of speeches that welcomed students to HMS. "I'm standing here feeling like a woman's eighth husband," he said. Students chuckled, and then roared when he added: "I know what I have to do, but I don't know if I can make it interesting enough. Welcome to Harvard and the medical profession." 
HMS society masters later presented each student with a white coat purchased by the Aesculapian Club, founded in 1902 to benefit life at Harvard Medical School. 
"We have the privilege of giving you the white coat," said Eliza Menninger, club president and assistant professor of psychiatry at McLean Hospital. "Wear it with pride, with humility and with compassion for your patients."
At the Peabody Society ceremony, Society Master Ron Arky, the Daniel D. Federman, M.D. Professor of Medicine and Medical Education, welcomed new students who hailed from around the world — from a small fishing village on Washington's Pacific coast to West Africa, Asia and the Caribbean. 
"You will be told how impressive and great HMS is, how we rank," said Arky. "When all is said and done, the best thing about this place is the person sitting next to you. The best thing about HMS is the students."
Arky encouraged them to learn from each other and lean on each other when necessary.
After receiving their coats, members of the Class of 2016 reunited to attend their first patient clinic at Brigham and Women's Hospital, and finished the day at a celebration with their families.