News
Building a Community for Primary Care Innovation
At this fall's kickoff event for the HMS Center for Primary Care, student leaders and faculty welcomed the class of 2016 with an invitation to be a part of the Center's efforts to create solutions to the primary care crisis facing the nation and the world.
Keynote speaker Julian Harris, director of the Office of Medicaid in Massachusetts, shared the story of a woman with multiple sclerosis whose fragmented care was a barrier to improving her overall health. Harris asked the first-year medical students how they might change her situation, and called on them to have a "transformational impact on health care delivery."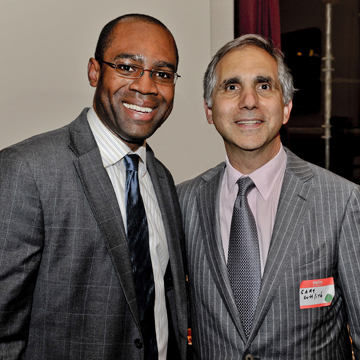 The event, organized by the Center's Student Leadership Committee, took place Sept. 13 in the Waterhouse Room at Gordon Hall. The evening was an opportunity for new students to learn about primary care at HMS and about scholarly opportunities available through the Center as well as to meet colleagues, faculty and leaders from HMS, affiliated hospitals and other local groups with an interest in health care innovation.
Russell Phillips, director of the Center for Primary Care and the William Applebaum Professor of Medicine at HMS, welcomed the new medical students. "Students helped bring the Center into being and will continue to sustain it," he said.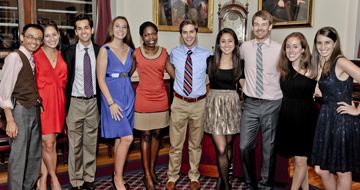 Deep Shah, co-chair of the Student Leadership Committee, said that the $30 million anonymous gift to start the Center for Primary Care was a bet that primary care is the key to achieving a patient-centered health care system of lower cost and higher quality. He also emphasized the unique opportunity HMS students have to shape and contribute to this vision through the Center.
The Center, which launched in the fall of 2010, draws together HMS students, basic science and clinical faculty and thought leaders from disciplines such as business, engineering, economics and psychology to explore solutions to the primary care crisis.