News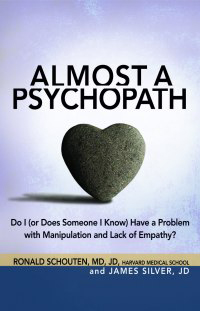 Almost a Psychopath
By Ronald Schouten and James Silver
Harvard Health Publications
Grandiosity and exaggerated self-worth, pathological lying, manipulation, lack of remorse, shallowness and exploitation for financial gain are all characteristics of "almost psychopaths," according to HMS Associate Professor of Psychiatry Ronald Schouten and co-author James Silver. According to the authors, almost psychopaths are not the deranged serial killers on TV, but the spouses, coworkers, bosses, children and neighbors we see on a daily basis.
Almost psychopaths, say Schouten and Silver, may exhibit many of the same behaviors as actual psychopaths, but with less intensity and consistency. Almost a Psychopath offers insight on interventions and other resources to change these types of behaviors by providing practical tools to help identify the behavior, attitudes and characteristics of the almost psychopath; devise strategies for dealing with them; and learn ways to help an almost psychopath get better.
Almost a Psychopath is part of The Almost Effect series by Harvard Medical School faculty and other experts in the field of behavioral and physical problems.