News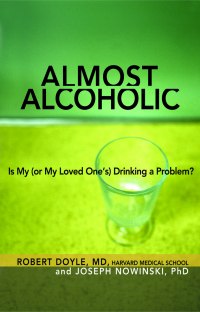 Almost Alcoholic
by Robert Doyle and Joseph Nowinski
Harvard Health Publications
Nationally recognized expert on alcoholism Robert Doyle, HMS clinical instructor in psychiatry at Massachusetts General Hospital, and clinical psychologist Joseph Nowinski offer insight into the world of alcoholism in their new book Almost Alcoholic.
In this book, Doyle and Nowinski present the tools necessary to help readers identify and assess their patterns of alcohol use, as well as evaluate alcohol's impact on their relationships, work, and personal well-being. The authors provide guidance in developing strategies and goals for changing the amount and frequency of personal alcohol use and show readers how to measure individual progress. Lastly, Doyle and Nowinski show readers how to make informed decisions when it comes to alcohol consumption.
This book, which serves as an engaging guide on alcoholism, is part of "The Almost Effect" series by Harvard Medical School faculty and other experts in the field of behavioral and physical problems.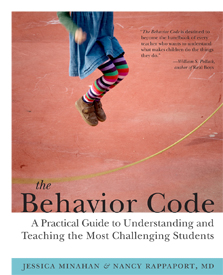 The Behavior Code: A Practical Guide to Understanding and Teaching the Most Challenging Students
by Nancy Rappaport and Jessica Minahan
Harvard Education Press
Nancy Rappaport, HMS assistant professor of psychiatry at Cambridge Health Alliance and educator Jessica Minahan provide the tools to decode challenging student behavior in their new book, The Behavior Code.
The book, which includes user-friendly worksheets and other resources, offers effective strategies to prevent inappropriate behavior from occurring in the classroom. Rappaport and Minahan provide readers with a conceptual background for "breaking the code" in four of the most challenging types of students: students with anxious, oppositional, withdrawn and sexualized behaviors, in kindergarten through the sixth grade.
The authors present the foundation for a different kind of behavioral intervention plan that they call the "FAIR Plan." The four elements of the plan are Functional Hypothesis, where teachers document behaviors and make hypothesis about what the student is trying to communicate through his or her behavior; Accommodations that need to be in place to help the student function more proactively; Interaction strategies that will promote more favorable behavior; and Response strategies that may be considered if prevention efforts fail. The authors determine the best ways to intervene and support students with varying behavior issues as well as provide behavioral support plans for teachers to tailor for the hardest to reach students in their classroom.
Rappaport is a child and adolescent psychiatrist and director of school-based mental health programs with Cambridge Health Alliance.