News
Stephen Blacklow has been named chair of the Department of Biological Chemistry and Molecular Pharmacology at Harvard Medical School, effective Oct. 1, 2012.
A member of both BCMP and the Department of Cancer Biology at the Dana-Farber Cancer Institute, Blacklow has deep roots at HMS, as an MD-PhD student, a post-doctoral trainee in pathology, and for the last 14 years, a faculty member in pathology and then at BCMP.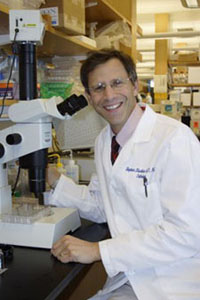 "Steve is widely respected as a scientist and as a devoted mentor," said HMS Dean Jeffrey S. Flier, who announced the appointment Sept. 4. "A researcher who elegantly combines structural biology with biochemical approaches, Steve is extremely well suited to lead this storied department at a time when our capacity to see, understand and influence biological processes at the molecular level raises urgent new questions as fast as it answers them."
"I am honored and grateful for this opportunity," Blacklow said. "As chair, I will continue to foster a research environment that drives fundamental breakthroughs in our understanding of molecular mechanisms in health and disease. My first priority will be to re-energize and strengthen the department by recruiting new faculty whose research will emphasize mechanistic, structural and chemical biology."
Blacklow succeeds Steve Harrison, who has served as acting BCMP chair since 2009.  "Steve Blacklow's scientific background and research achievements match splendidly both the heritage and the future of the BCMP department," said Harrison, the Giovanni Armenise-Harvard Professor of Basic Biomedical Science at HMS. "In selecting him as the next chair, the Dean has made a wise investment in the continued vitality of BCMP as a leading center for studies of biomolecular mechanism."
Flier praised Harrison "for his excellent interim stewardship of the department over the past three years." The dean also thanked the search advisory committee and its chair, William Chin, the Bertarelli Professor of Translational Medical Science at HMS.
Research interests
Blacklow's research has addressed critical questions of human health and disease. His primary scientific interest is the molecular logic of transport and signaling receptors, focusing on proteins implicated in human disease.
His group has made major contributions to understanding biochemical mechanisms underlying the function of cell-surface receptor molecules, including the receptor for low-density lipoproteins (known as "bad" cholesterol) as well as a family of proteins called Notch receptors. Because mutations in the Notch-1 receptor are often found in human T-cell acute lymphocytic leukemia/lymphoma, these studies have also helped uncover how these cancerous cells overcome normal restraints, and have led to the development of monoclonal antibodies that suppress mutation-induced signaling.
Blacklow has also directed the MD-PhD program in basic and translational sciences at HMS since 2007. As chair of BCMP, he pledged to build upon deep personal and departmental commitments to preparing future generations of biomedical scientists.
Blacklow received his BA from Harvard College in 1983, his MD from HMS in 1991 and his PhD in chemistry from Harvard University that same year. He completed his residency in clinical pathology at Brigham and Women's Hospital and conducted postdoctoral research at the Whitehead Institute with Peter S. Kim. He accepted a faculty appointment at Stanford University in 1996 and joined the HMS faculty in pathology at Brigham and Women's in 1998. He has been named a Pfizer Scholar, a Pew Scholar and an Established Investigator of the American Heart Association.
"Steve Blacklow is an outstanding scientist, colleague and mentor. He will be a superb chair," said Edward J. Benz, Jr., president and chief executive of Dana-Farber and the Richard and Susan Smith Professor of Medicine at HMS. "Steve has the disposition, mentoring skills and organizational abilities needed to lead a department, and he is eager to contribute on a broader platform than is possible solely within one's own lab. We are delighted that Dana-Farber will be able to maintain strong connections to him as he moves to the Quadrangle."
Blacklow will be the third permanent chair of BCMP since the 1987 merger of the former separate departments of biological chemistry and of pharmacology. Christopher Walsh, Hamilton Kuhn Professor of Biological Chemistry and Molecular Pharmacology at HMS, led the department from 1987 to 1995. Edward Harlow, Virginia and D.K. Ludwig Professor of Cancer Research and Teaching at HMS, led BCMP from 1998 to 2009.