News
Announcing the 2014 Longwood Summer Music Series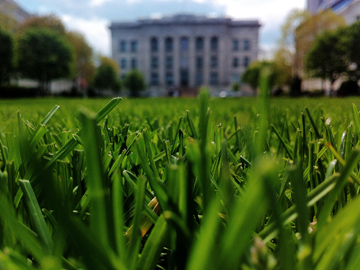 HMS, HSPH and HSDM invite you to take a break from your research, patients, paperwork and other tasks to enjoy the 7th Annual Longwood Campus Summer Music Series, taking place on the HMS Quad and Kresge Courtyard. The concerts, featuring talented musicians from Berklee College of Music, take place on Wednesdays from 12:30—1:30 p.m.* So sit back, relax, and enjoy some music with your colleagues.
Wednesday, July 9—12:30 p.m. (HMS Quad)
Aphrolove
Sterling Rhyne's original music blends R&B with neo-soul and indie pop. She plans to release a project with her band, Aphrolove, later this year. In the meantime, Rhyne leads songwriting workshops for students in elementary through high school grades in and around Boston. She hopes to travel the world leading workshops to inspire self-expression and social consciousness in young people.
 
Wednesday, July 16—12:30 p.m. (Kresge Courtyard)
3 Sudacas
3 Sudacas features three students at Berklee from Venezuela, Brazil and Colombia performing traditional and unique compositions arranged for voice, percussion, mandolin, guitar and bass. They have each had unique performance experiences as well as the opportunity to work and perform together for the 2014 Latin Grammys with Alejandro Sanz.
 
Wednesday, July 23—12:30 p.m. (HMS Quad)
Osiris Fire
Osiris Fire front man Itamar Edelman combines influences from his reggae-rich hometown of Ithaca, New York, with the heavy bass and electronic sounds of the Boston underground hip-hop scene to create an original genre-defying sound. Bassist Camilla Charlesworth and roots powerhouse Alex Roderick round out the group, which released a self-titled EP in January to a growing fan base. Osiris Fire shows are known for intense energy, ethereal improvisations, and a deep groove set to evoke the heart beating within.
 
Wednesday, July 30—12:30 p.m. (Kresge Courtyard)
Armeen Musa
Armeen Musa is a singer-songwriter and composer from Dhaka, Bangladesh, currently living in Boston. Armeen has been performing with her band from the age of 14. At age 19, she recorded her debut album, Aye Ghum Bhangai, featuring 10 original songs. Since then she has lived in London and performed with the Afro-beat Bengali band Lokkhi Terra in addition to solo performances. At Berklee College of Music, she has participated in various music festivals including one with Bobby McFerrin, and has released an EP with guitarist Zak Dylan Wass. Her sound is a blend of Bengali folk, jazz, soul, acoustic blues, Indian classical and more.
 
Wednesday, August 6—12:30 p.m. (HMS Quad)
Bobby Wesley
Bobby Wesley is an up-and-coming guitarist, songwriter and vocalist from Detroit, now based in Boston. His compositions are a timeless mixture of contemporary jazz and neo-soul. He is in the process of recording his debut album. Bobby is influenced by artists such as Jimi Hendrix, Bilal, D'Angelo, John Legend and many more. As an accomplished musician and graduate of Berklee College of Music, he has had the honor of performing with Lalah Hathaway, Meshell Ndgeocello, Willie Nelson and Annie Lennox.
 
Wednesday, August 13—12:30 p.m. (Kresge Courtyard)
Hadley Kennary
Four years after picking up her first guitar at the age of 10, Hadley Kennary started writing music. Now 20, she has released a self-titled EP and a full-length album, and she has dedicated her time to studying music at Berklee College of Music. Her music mixes the honesty of Sara Bareilles with the mellow cleverness of Ingrid Michaelson, finished off with defining harmonies similar to the Indigo Girls. Each song is a unique experience that stays true to her acoustic roots and vocal integrity. She has graced stages around the country such as The Bitter End in New York City, Uncommon Ground in Chicago, and Club Passim in Cambridge as well as festivals such as the Bucktown Garden Fest in Chicago and Boston Book Festival 2013 in Copley Square.
 
Wednesday, August 20—12:30 p.m. (HMS Quad)
Lesser Animals
Lesser Animals is a Boston-based band with James Sanderson and Noel Friesen on vocals and guitar, Mike Kerr on guitar, Myles Davis on piano and woodwinds, Charlie Porter on bass, and Roland Greco on drums.
 
Wednesday, August 27—12:30 p.m. (Kresge Courtyard)
SkyBridge
SkyBridge is a band and project with diversity. Established in Boston in the spring of 2013 by the vocalist and composer Utako Toyama, a Japanese student at Berklee College of Music, SkyBridge symbolizes the rainbow. SkyBridge music ranges from pop and R&B to reggae, jazz, soul and funk. Through the exchange of culture, language, and ideas, Sky Bridge brings music that serves a warm message for the global community.
 
* In cases of inclement weather, a decision will be made by 9:30 a.m. on the day of the concert determining whether or not it will be canceled.
Summer Music Series 2012
Melanie Lynx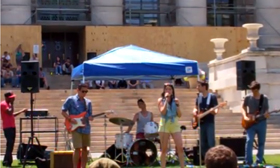 Part of the 2012 Summer Music Series at Harvard Medical School, Melanie Lynx has a love for all things that make her giggle, smile and sing. Born and raised in a small Rhode Island town, she perfected her craft as a performer and made her way to Boston, where she currently attends school. Now at the age of 20, Lynx has found her niche as a pop/rock artist.