Louis Lange, MD 74, PhD
Louis Lange, MD '74, PhD supports next generation of MD-PhD candidates

His successful career has included being Chief of Cardiology and Professor of Medicine at Jewish Hospital at Washington University School of Medicine in St. Louis, Missouri, and then founding and leading the biotech company CV Therapeutics, which launched two first-in-class cardiovascular drugs that now have been used by over 10 million patients; the company was acquired by Gilead in 2009.
"I know how valuable it has been for me to have a true investigative career," he says. His $1 million gift to support the Harvard/MIT MD-PhD Program gives back while continuing the School's progress in creating robust basic science researchers among its medical students. When Lange was here in the 1970s, there was no MD-PhD program, so he charted his own course to become the School's first MD-PhD. Today, there are 150 MDPhD candidates at HMS.
Lange's support of the Harvard/MIT MD-PhD Program, he believes, will foster more of these unique investigators. The rigorous program provides training for highly qualified students to become the next generation of leading physicianscientists. A number of these students may go on to pursue a career in basic research, while all students will be much better equipped to lead clinical trials and other research projects.
Our
Mission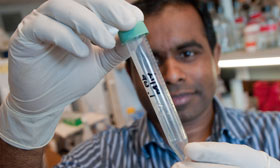 To create and nurture a diverse community
of the best people committed to leadership in alleviating human suffering caused by disease