Within Your First Week
Getting Up to Speed: Within Your First Week
Qualify for and sign up for your Harvard ID card.
Prerequisite: Complete pre-hire paperwork with HR Coordinator.
When you meet with the HR Coordinator to do your pre-hire paperwork, he will generally give you a packet with your Harvard ID #. If the Harvard ID # has not been generated he will send it to you via email as soon as possible. The packet includes two forms that must be completed before you can get your id:
A Risk Assessment Form. Your supervisor will complete, indicating which trainings you must complete before the ID Application can be processed
An ID Application form, also signed by your supervisor.
Once these forms have been signed by your supervisor, take them to the Harvard ID office to submit them and have your picture taken. If you have taken all necessary trainings, you will receive your ID at the same time. Otherwise, you will receive a temporary ID and will obtain your photo id only after submitting the Risk Assessment Form showing all trainings complete.
Setup your eCommons account
Prerequisite: your Harvard ID#.
You will need your eCommons account in order to access IT services such as logging into your computer and web-based email. To register:
Have your manager log in to your computer,
Open a an internet browser and go to eCommons,
Select "Obtaining an Account," and then select "Register Now".
On the resulting page, enter your last name and Harvard ID number, and then select "submit".
Access your email via the web
Prerequisite: Your eCommons ID and password from the previous step.
Once you have your eCommons ID and password, you can access your email via the web at: http://email.med.harvard.edu. If you have email login issues, email help_desk@hms.harvard.edu or call 617-432-2000 for support.
Setup your computer with your email account
Prerequisite: Your eCommons ID and password from the previous step.
Contact the IT Help Desk at help_desk@hms.harvard.edu or 617-432-2000, to request an overview session on IT Resources with the Customer Service Representative for your department. At this overview session the CSR will set up your computer with your email and orient you to your home and department file share.
Create your Harvard PIN #
Prerequisites: your Harvard ID # and in most cases your HMS email address.
You will need your Harvard PIN # to access a wide variety of services, including entering your time on PeopleSoft, obtaining your T Pass, access to job-specific applications, etc.
To obtain a Harvard PIN #, go to http://pin.harvard.edu. Enter the required information and follow the prompts.
Sign up for your T pass
Prerequisites: Your Harvard ID # and PIN
Harvard offers a generous 50% subsidy for most transit passes. For details and to sign up, go to: http://www.commuterchoice.harvard.edu/
It may take 5 - 9 weeks before you receive your first transit pass. For faster service, sign up as soon as you can. Unfortunately there is no reimbursement for transit passes you buy on your own while waiting for your first pass.
Register for Harvard's MessageMe Emergency Notification System
Prerequisite: Your Harvard ID # and PIN<
MessageMe allows the University to quickly distribute critical information to you, wherever you are located, during an emergency. For more information and to register go to: https://messageme.harvard.edu/.
Learn how to use PeopleSoft for reporting your time and absences
Prerequisites: Your Harvard ID # and PIN.
PeopleSoft is Harvard's system for managing a great many functions, especially for tracking your time and absences. To access PeopleSoft, go to http://harvie.harvard.edu . In the top right, click on the arrow next to "Go To PeopleSoft". For a comprehensive training on how to use Peoplesoft, click here.
Sign up for parking
Prerequisites: Your Harvard ID #.
Once you have your ID#, contact the parking office to find out about and sign up for parking in the Longwood Medical Area.
Meet with your manager
Schedule an appointment with your manager to:
review your job description and role
review goals and expectations for the next 60-90 days. This is the beginning of your entry into the annual performance review cycle. To find out more about HMS' approach to the performance management cycle, click here (eCommons login required).
create a schedule for regular check in meetings
Transit Gallery News
Members of the Harvard Longwood Campus community are invited to visit Gordon Hall's Transit Gallery to view a new exhibit, Strange Surroundings, featuring the work of Resa Blatman. This exhibit will be on display April 30th through June 23rd.
Please join us for the Art & Science Talk – May 7, 2014, 4p-5p in Goldenson 122 with artist Resa Blatman, and scientists Dr, Aaron Bernstein and Dr. Richard Primack. Reception in the gallery immediately following.
In Resa Blatman's work, her focus lies in current environmental issues, their effect on our landscape and natural resources, and how we perceive the changes in the environment.
Dr. Richard Primack's research is focused on the impact of climate change on plants and animals, conservation biology, and the timing of leaf out and leaf senescence, rare plants and tropical forests.
Dr. Aaron Bernstein's work examines the human health effects of global environmental changes, such as climate change and the loss of biodiversity, with the aim of promoting a deeper understanding of these subjects among students, educators, policy makers, and the public.
The Transit Gallery, located in Gordon Hall's lower level corridor, showcases professional artists in the Harvard and greater Boston communities whose works use, explore or are otherwise connected to the sciences.  To learn more about the Transit Gallery and its exhibits, please contact Tania Rodriguez at 432-3809 or via e-mail (tania_rodriguez@hms.harvard.edu).
Our
Mission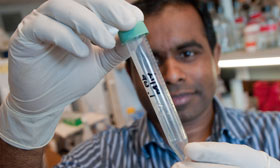 To create and nurture a diverse community
of the best people committed to leadership in alleviating human suffering caused by disease