Within Your First Month
Getting Up to Speed: Within Your First Month
Attend Harvard University and Harvard Medical School New Employee Orientations
As mentioned above, your orientation has two components:
Harvard University

the Harvard University orientation occurs most Mondays from 9 am - 12:30 pm in Cambridge
covers your benefits and other topics common to all Harvard University Employees
if you are located in the Longwood Medical Area and already have your Harvard ID, the M2 shuttle is the most convenient way to get there. Click here for schedule.
NB: You must have your permanent Harvard ID to board the M2.  If you do not yet have your Harvard ID on the day of your orientation, M2 vouchers are available through your HR Coordinator.
Details including a map can be found here.

Harvard Medical School

the HMS orientation occurs twice a month on Thursdays from 10 am - 12 noon.
focuses on topics specific to the Longwood Medical Area and HMS
Details including a map can be found here.
Sign up for your benefits
An enrollment guide will be mailed to your home address shortly after you are hired. If you do not receive this packet within a week of your first day at work, call the Benefits Services Group at 617-496-4001. You have 30 days from your date of hire to make your benefits choices. You can enroll for your benefits using PeopleSoft, by following these instructions (Harvard ID and PIN required for access).
Determine Your Learning Goals
You and your manager should be discussing what you will need to learn in order to do your job effectively. This can include getting to know people in your department or throughout HMS, the University, and beyond, as well as familiarizing yourself with programs, policies and procedures, and software applications. Resources for training include:
Find out what systems you may need access to
In some roles you may need access to more systems than you gain just by having an eCommons ID and a Harvard PIN. Your manager should be able to help you to identify these and to help you gain access to them.
Explore Harvard's Intranets
Harvard is a famously decentralized organization. Not only is there an intranet for Harvard University as a whole, but most schools have their own school-specific intranet to serve their employees.
HARVie is Harvard's Intranet for Employees. It is extremely comprehensive and is well worth exploring. The page for new employees may be especially helpful to you. Requires your Harvard ID # and PIN.
Transit Gallery News
Members of the Harvard Longwood Campus community are invited to visit Gordon Hall's Transit Gallery to view a new exhibit, Strange Surroundings, featuring the work of Resa Blatman. This exhibit will be on display April 30th through June 23rd.
Please join us for the Art & Science Talk – May 7, 2014, 4p-5p in Goldenson 122 with artist Resa Blatman, and scientists Dr, Aaron Bernstein and Dr. Richard Primack. Reception in the gallery immediately following.
In Resa Blatman's work, her focus lies in current environmental issues, their effect on our landscape and natural resources, and how we perceive the changes in the environment.
Dr. Richard Primack's research is focused on the impact of climate change on plants and animals, conservation biology, and the timing of leaf out and leaf senescence, rare plants and tropical forests.
Dr. Aaron Bernstein's work examines the human health effects of global environmental changes, such as climate change and the loss of biodiversity, with the aim of promoting a deeper understanding of these subjects among students, educators, policy makers, and the public.
The Transit Gallery, located in Gordon Hall's lower level corridor, showcases professional artists in the Harvard and greater Boston communities whose works use, explore or are otherwise connected to the sciences.  To learn more about the Transit Gallery and its exhibits, please contact Tania Rodriguez at 432-3809 or via e-mail (tania_rodriguez@hms.harvard.edu).
Our
Mission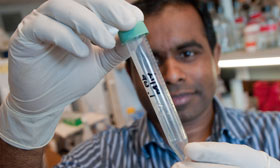 To create and nurture a diverse community
of the best people committed to leadership in alleviating human suffering caused by disease