Harvard Heroes
What is Harvard Heroes?
Harvard staff members contribute vitally to Harvard's excellence. Staff contributions include building and maintaining a vast infrastructure (technical, financial, physical and human) upon which the academic enterprise relies.
Harvard Heroes is an annual program held every spring that recognizes and celebrates high-performing staff from across every School and major unit of the Central Administration. These staff members have been nominated and/or selected by their peers for their leadership, teamwork, adaptability, and exceptional contributions to support the mission of Harvard. They set a standard of exemplary achievement.
Transit Gallery News
Members of the Harvard Longwood Campus community are invited to visit Gordon Hall's Transit Gallery to view a new exhibit, Strange Surroundings, featuring the work of Resa Blatman. This exhibit will be on display April 30th through June 23rd.
Please join us for the Art & Science Talk – May 7, 2014, 4p-5p in Goldenson 122 with artist Resa Blatman, and scientists Dr, Aaron Bernstein and Dr. Richard Primack. Reception in the gallery immediately following.
In Resa Blatman's work, her focus lies in current environmental issues, their effect on our landscape and natural resources, and how we perceive the changes in the environment.
Dr. Richard Primack's research is focused on the impact of climate change on plants and animals, conservation biology, and the timing of leaf out and leaf senescence, rare plants and tropical forests.
Dr. Aaron Bernstein's work examines the human health effects of global environmental changes, such as climate change and the loss of biodiversity, with the aim of promoting a deeper understanding of these subjects among students, educators, policy makers, and the public.
The Transit Gallery, located in Gordon Hall's lower level corridor, showcases professional artists in the Harvard and greater Boston communities whose works use, explore or are otherwise connected to the sciences.  To learn more about the Transit Gallery and its exhibits, please contact Tania Rodriguez at 432-3809 or via e-mail (tania_rodriguez@hms.harvard.edu).
Our
Mission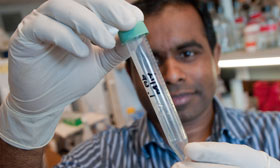 To create and nurture a diverse community
of the best people committed to leadership in alleviating human suffering caused by disease