Volunteer to be a Career Mentor for a Veteran
Volunteer Opportunity
Through American Corporate Partners (ACP), Harvard employees volunteer to provide one-on-one career development mentoring to post-2001 military veterans. Mentors and protégés are paired based on considerations such as location, education and career interests. Mentorships are for one year and you are encouraged to meet at least once a month via email, videoconference, telephone or in-person to discuss résumé and interview preparation, networking and other topics. ACP staff check in regularly to provide resources. If you have questions about this volunteer opportunity, please contact Melissa Brown in the Center for Workplace Development (617-496-1063). To sign up, go to the online application , enter access code HVDACP, and ACP will be in touch with you. If you cannot make a monthly commitment, you may still support ACP's mission and offer career guidance by joining their online community.
2014 Harvard Longwood Campus
On My Own Time Exhibit
Now Accepting Submissions!
On My Own Time (OMOT) is an exhibit that features the diverse talents and interests of staff, faculty, post-docs, and students, providing the opportunity to bring one's whole self to work and showcase talents that may not be apparent to your colleagues.  Past exhibit entries included music, dance, photography, textiles, basket-weaving, poetry, sculpture, cooking, and more.
The OMOT exhibit will include HSPH, HMS, and HSDM. The exhibit will be displayed at the HSDM Research Education Building at 190 Longwood Avenue (located directly behind 188 Longwood Avenue) from November 12-21, 2014.  All are invited to the reception celebration on Wednesday, November 12th from 2:30p-4:30p in the lobby of the Research Education Building.
If you would like to participate, please complete the entry form found here.  The deadline for submissions is Friday, October 24, 2014.
Please contact the OMOT team with any questions at onmyowntime@hms.harvard.edu, or call either Tania Rodriguez (617.432.3809) or Ilia Maldonado (617.432.1627).
Our
Mission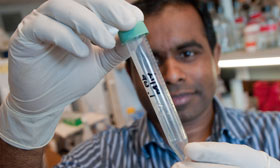 To create and nurture a diverse community
of the best people committed to leadership in alleviating human suffering caused by disease