Charitable Gift Annuities
Support Harvard Medical School and generate fixed income for life by establishing a charitable gift annuity.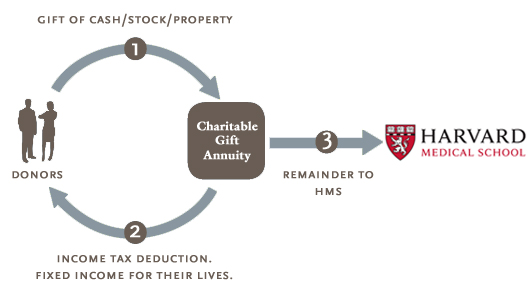 Receive an annuity rate based on your age (older = higher)
Enjoy quarterly payments for life
Qualify for an immediate federal income tax deduction
Benefit from some tax-free income
$25,000 minimum
Don't need the income right away? Click here for information on deferred and other kinds of gift annuities.
Read about someone who established a charitable gift annuity.
Gift Annuity Rates at Sample Ages
SINGLE LIFE
TWO LIFE
Age
Annuity Rate
Ages
Annuity Rate
70
6
70/75
5.6
75
6.7
75/80
6.1
80
7.7
80/85
7
85
8.7
85/90
8
Variations on a standard gift annuity
Deferred CGAs
Defer the payments for a minimum of one year
Flexible annuity
Select from a range of possible future start dates to receive payments
Stepped annuity (50K minimum)
Structure your annuity to receive steadily increasing income
To learn more, please contact:
Mary Moran Perry
Senior Director of Gift Planning
(617) 384-8449 or (800) 922-1782
mary_perry@hms.harvard.edu
Charitable Gift
Annuity
Download an informational brochure explaining the benefits of charitable gift annuities.