50th Reunion and above program
Get Reunion credit for your bequest gift.
Make a Bequest Intention Pledge of $25,000 or more, pay 20% of the total gift over three years, and designate the remaining pledge to come from your estate or retirement plan.
Receive Reunion credit for the full amount pledged and help your class reach its goal
An appealing gift option offered to those celebrating their 50th Reunion and beyond
To learn more, please contact
Mary Moran Perry
Senior Director of Gift Planning
(617) 384-8449 or (800) 922-1782
mary_perry@hms.harvard.edu
2015 Reunion:
Classes ending in 0 or 5
May 28–29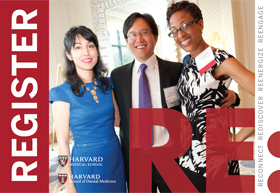 Reignite

the curiosity you enjoyed as a student. Start planning to

Reconnect

with your classmates and

Rediscover

the campus during your Reunion.