Reunion giving
Alumni Fund
Celebrate your Reunion with a special gift to the Alumni Fund. Your Reunion gift, regardless of the amount, makes an immediate impact at the School and counts toward your class's Reunion Gift.
Learn more »
Dean's Council
Join the Dean's Council, our leadership annual giving society in honor of your Reunion. Your gift of $2,000 or more will qualify you for membership; alumni who have graduated within the last nine years can join as a Society Fellow with a contribution of $100 or more for each year since graduation.
Learn more »
To learn more about the Alumni Fund or Dean's Council, please contact
Maryellen Horgan
Director of Annual Giving
617-384-8454
maryellen_horgan@hms.harvard.edu
Bequest Giving: A Way to Give Back for the 50th Reunion and Beyond
Estate gifts help to ensure that HMS has a strong financial foundation into the future. If you are celebrating your 50th Reunion or beyond, by making a bequest commitment through your will, personal trust, or retirement plan you can receive Reunion credit. In addition to the bequest, an outright gift of at least $5,000 is requested to aid current students.
Learn more »
Charitable Remainder Trust: Reunion Credit of $100,000
A Harvard-managed charitable remainder trust is an excellent way to generate variable lifetime income for you and another person you name. You will qualify for a charitable income tax deduction for a portion of the value of your gift. The minimum funding level is $100,000.
Learn more »
Charitable Gift Annuity: Reunion credit of $25,000
A charitable gift annuity provides a guaranteed fixed income for life for you and one other, if you wish. The annuity payment made to you is based on the age(s) of the beneficiaries. Income from the annuity is backed by the assets of Harvard University, and can be established with a minimum gift of $25,000.
Learn more »
To learn more about bequests, charitable remainder trusts, or charitable gift annuities, please contact
Mary Moran Perry
Senior Director of Gift Planning
(617) 384-8507 or (800) 922-1782
mary_perry@hms.harvard.edu
2015 Reunion:
Classes ending in 0 or 5
May 28–29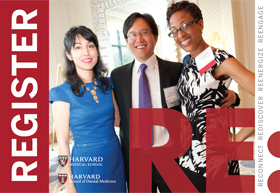 Reignite

the curiosity you enjoyed as a student. Start planning to

Reconnect

with your classmates and

Rediscover

the campus during your Reunion.

 
Joseph B. Martin
Conference Chair
Name a chair in the amphitheater of the Joseph B. Martin Conference Center in honor of a classmate, faculty member, spouse, or your family.