Meet the Sponsors
Meet Laurence E. Paul, MD '90 and Christoph H. Westphal, MD '96.
Why do you give to HMS?

Larry Paul (LP): I believe HMS is an extraordinary and exemplary institution. I am proud to endorse and support the training and challenging of brilliant young minds, and the improvement of the human condition and eradication of disease.

Christoph Westphal (CW): I give to support HMS's unparalleled educational experience for future generations.

What is the impact you're hoping for as a result of your gift to sponsor the Recent Graduate Challenge?

CW: I hope the Challenge will keep young alumni engaged and supportive of HMS. Through the Challenge, I hope we will educate young alumni about the School's needs and will help to raise much-needed funds to support scholarships for today's students.

LP: I think giving patterns and philanthropic priorities are established very early in someone's life. By encouraging young graduates to engage with the School at whatever level they choose, because there is no right level, I hope to help facilitate the growth of the broader HMS community.

Why should recent graduates participate in the Challenge?

LP: Recent graduates have a million reasons to not participate—they're very busy, they are not earning much, they have lots of debt, and are barely making ends meet. They assume that if they can only give a small amount, why bother giving at all; since it won't make a difference to an institution that is as large as Harvard. I hope this Challenge helps to illustrate quite the contrary by showing that a gift of any amount is a way to respect your HMS experience. Recent graduates should participate because they believe that together, we can make a different in the lives of students who are following in our footsteps.

CW: Recent graduates should participate because, collectively, their philanthropy can help encourage innovative thought, challenge and develop new ideas, and provide guidance to the next generation of students.

What do you hope to see HMS accomplish in the future?

CW: I see HMS as the leading school in medical education and patient care, scientific research, discovery, and innovation. HMS's outstanding faculty, students and alumni are well-appointed to achieve great progress in the discovery, cure, and prevention of diseases prevalent in the world today and contribute greatly to reversing today's health care crisis. I also hope to see strong emphasis on entrepreneurship as a venue to bring great innovative ideas out of HMS and turn them into prosperous businesses.

LP: I'd love to see HMS grow its resources so that it supports all future students in a way that they may choose specialties and career paths independent of financial decisions—allowing smart, bright, eager, energetic minds to do what they what to do without regard to the burden of their debt. I want to see Harvard research continue to be on the forefront of advancing the body of knowledge for health care, medicine, and the human condition. And I want to see Harvard be able to continue to attract the best and the brightest faculty both for research and for teaching.
For every dollar you give, Drs. Paul and Westphal will give an additional $2, up to $50,000. Click here to accept the challenge and make your gift today or call (617) 384-8454.
Our
Mission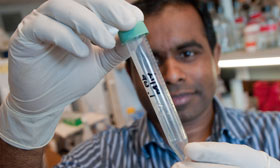 To create and nurture a diverse community
of the best people committed to leadership in alleviating human suffering caused by disease