Classes of 1930-1939
Alumni Honor Roll of Donors
Class of 1939
75% participation
Daniel S. Ellis, MD+
William L. Proudfit, MD
John B. Stanbury, MD
Legend
~ Dean's Council Member + Ezekiel Hersey Council * Deceased
---
All gifts and pledges received July 1, 2014, through June 30, 2015, have been reviewed carefully to ensure that each gift is properly recognized. Occasionally, despite best efforts, a name may be listed incorrectly or omitted. We sincerely apologize if this is the case. Please alert us to such errors by contacting Elizabeth Chan, Assistant Director of Annual Giving, at (617) 384-8441  or elizabeth_chan@hms.harvard.edu.
Honor Roll
of Donors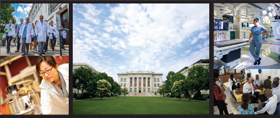 Thank you to the thousands of individuals and organizations whose gifts in fiscal year 2015 are transforming education, driving discovery, strengthening health systems, and incubating innovation and leadership to improve human health.
View the complete Honor Roll of Donors, which lists gifts from all alumni and friends of HMS, as well as corporations and foundations »
Thank You
Gifts in fiscal year 2015 have a tangible impact on the Quad, across the country, and around the globe as HMS works to alleviate human suffering caused by disease.
Alumni
Association
The Harvard Medical Alumni Association is keeping nearly 10,000 living alumni connected. What can we do for you?
Visit the HMAA online for information about keeping connected, getting involved, events, and lifelong learning. Click here »