Focus areas
Biomedical Informatics

The Biomedical Informatics Initiative uses "big data" analysis to alter fundamentally the paradigm of how medicine is practiced. Harvard Medical School will distill the biological insights gained from the evaluation of an expanding trove of biomedical information directly into the diagnoses, prognoses, and therapeutics that will improve our ability to detect and cure disease.
Education

The urgency to produce the best doctors in the nation has never been more pressing. The rapid pace of clinical discovery for both the diagnosis and treatment of disease, advances in medical technology, and the enormous complexities in health care delivery systems both here and abroad demand excellence from medical practitioners, researchers, and policy experts. Harvard Medical School produces these medical leaders.
Genetics

Modern molecular biology has led to a revolution in our understanding of how genes are regulated, and how they orchestrate cellular and physiological processes. Harvard Medical School aims to decode the genetic mechanisms underlying biological phenomenon and disease, ultimately advancing the understanding, diagnoses, and interventions for many of the most challenging disorders known today.
Global Health

Harvard Medical School applies social science and humanities research to improve the practice of medicine, the delivery of treatment, and the development of health care policies locally and worldwide. In training the next generation of global health leaders, we focus on clinical areas of unmet burdens of disease to bridge the gap between knowledge and practice, and to tackle inequities in health care delivery.
Health Care Policy

The delivery of health care in this country is inherently complex. Harvard Medical School brings together a rich, multi-disciplinary group of physicians, economists, medical sociologists, and statisticians to analyze the pressing health care issues of today and to inform the policy decisions of tomorrow.
Immunology

Millions of people around the world suffer from a number of conditions—including cancer, diabetes, multiple sclerosis, and allergies—that growing evidence links to deficiencies in the immune system. Harvard Immunology is built to promote collaboration and innovation in Harvard Medical School's world-class scientific community, thus bolstering its collective impact to alleviate human suffering caused by disease.
NeuroDiscovery

Neuroscientists across the Harvard Medical School community are dedicated to advancing our understanding of the inner workings of the brain through basic, translational, and patient-based clinical research initiatives. By bringing together the necessary resources, Harvard NeuroDiscovery is making significant strides in our understanding and treatment of neurological and psychiatric diseases.
Systems Biology
Systems Biology offers a new route to understanding and ultimately treating complex human diseases such as cancer, diabetes, and neurological disorders. Harvard Medical School is focused on understanding the dynamic and interconnected intricacies of all human systems and has unsurpassed potential to transform the future of biomedical research to further personalized medicine and the development of new drugs.
Therapeutic Science

As our biomedical knowledge has expanded, the business of traditional drug development has become increasingly challenging and less productive. Harvard Medical School aims to increase our knowledge of human disease mechanisms, how therapeutics act in the human system, and improve the quality of drug candidates as they enter the clinical testing and regulatory approval process.
Unique gift opportunities, including endowment and current use naming opportunities are available in each focus area. To learn more, please visit naming opportunities.
To learn more about how you can partner with us in supporting any of these vital directives, please contact
Susan E. Rapple
Dean of Resource Development
(617) 384-8452
susan_rapple@hms.harvard.edu
HMS
in Motion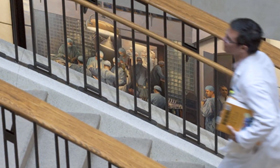 A vibrant community is shaping the future of education and biomedicine
This is a place where bold ideas are incubated, a place where extraordinary individuals working as teams tackle tough problems with unrelenting passion. In the past year alone, the school has moved in exciting new directions, propelled by the expertise and energy of its faculty, staff and students.