Warren Alpert Foundation recognizes awe-inspiring science
Warren Alpert Foundation recognizes awe-inspiring science

Recipients of the Warren Alpert Foundation Prize are selected annually by the foundation's Scientific Advisory Committee, comprising internationally renowned biomedical scientists and chaired by HMS Dean Jeffrey S. Flier, MD. Recently the foundation gave $150,000 to HMS to further its mission and continue the prize's momentum and impact.
"We are honored to administer the Warren Alpert Prize, whose recipients have impacted a wide spectrum of diseases, from asthma and breast cancer to H. pylori, its role in gastric ulcers, cardiovascular disease, and HIV/AIDS," says Judith Glaven, PhD, associate dean for basic and interdisciplinary research at HMS. "Seven of these honorees have also received a Nobel Prize."
The 2013 prize, to be celebrated Oct. 3, will be awarded to David Botstein of Princeton University, and Ronald W. Davis and David S. Hogness, of Stanford University School of Medicine, for their seminal contributions to the concepts and methods of creating a genetic map in the human, leading to the identification of thousands of disease genes and ushering in the era in human genetics.
"It is incredibly important to spotlight exciting scientific achievement which promises to change the landscape of medicine," says Bevin Kaplan, director of the Warren Alpert Foundation and a member of the HMS Board of Fellows. "This year's prize, in particular, would have thrilled Warren Alpert because of its tremendous potential to better humankind. He would have been humbled to honor these scientists for their work leading to the mapping of the Human Genome. It is certainly fitting that in our 25th anniversary year, we are celebrating such incredible visionaries."
Our
Mission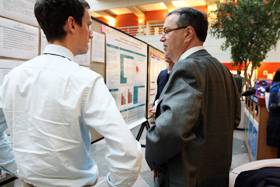 To create and nurture a diverse community
of the best people committed to leadership in
alleviating human suffering caused by disease