A tale of two coasts
A tale of two coasts
Following his residency at Peter Bent Brigham Hospital, he returned to the West Coast, where he and his wife, Helen, settled and raised two sons.
Palmer worked as an associate professor of medicine at the University of California, San Francisco. In addition to his private practice in internal medicine, he was an attending and neurology consultant at Children's Hospital of San Francisco and St. Luke's Hospital, both now part of California Pacific Medical Center (CPMC). He also led the Multiple Sclerosis and Muscular Dystrophy Clinics for Northern California.
Following his death in 1982, Helen Palmer carried on her husband's legacy by establishing a charitable remainder unitrust in both of their names. Funded with appreciated stock, she named HMS and CPMC as co-beneficiaries. For 18 years, Helen received income generated by the trust.
When she died in 2012, the institutions on both coasts benefited from her generosity. The HMS portion, totaling more than $218,000, was earmarked to support medical research and education in the Department of Neurobiology. It was a fitting tribute to an alumnus who dedicated his career to the field of medicine and improving the lives of others.
Our
Mission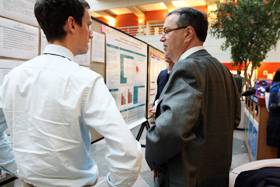 To create and nurture a diverse community
of the best people committed to leadership in
alleviating human suffering caused by disease