Society master leads by example
Society master leads by example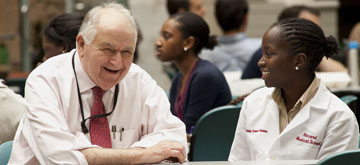 An integral part of HMS's society structure—the innovative system started by former Dean Daniel C. Tosteson that divides students into five academic societies upon matriculation—he serves as an academic advisor to approximately 160 students.
In an effort to perpetuate the concept of these "learning communities," Arky has established a $300,000 charitable gift annuity that will ultimately create the Marie and Ronald Arky, MD Endowed Mastership Fund for the Francis Weld Peabody Society at Harvard Medical School.
"HMS is unique. Despite our vastness, we're able to split students into finite groups that allow for an intimate relationship that isn't possible otherwise," Arky says. In addition to serving as the hub of each student's learning process, societies have additional benefits, according to Arky, including influencing the curriculum and nurturing social interchange and contact between students and faculty.
Arky is proud that more than 66 medical schools around the country have adopted the HMS structure and describes his role of master as the ultimate relationship. "I get to play a role in the development of a group of amazingly talented students and follow their success. It's extremely satisfying," he says.
"This gift will help keep the legacy of the Peabody Society alive—a legacy to which Ron has dedicated himself every day as he instills in our students the lessons behind Francis Weld Peabody's memorable words: 'The secret of the care of the patient is in caring for the patient,'" says Dean Jeffrey S. Flier, MD.
"I understand that without funding, things like societies won't exist. I hope to set an example," Arky adds.
I Am
Harvard Medicine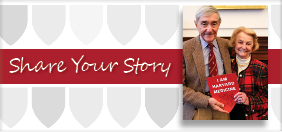 Whatever you are doing and wherever you are working around the globe, YOU are Harvard Medicine.

The Benefactor
Partners in Discovery
Download and read archived issues of our bi-annual publication to honor and acknowledge our most generous friends and supporters.