With seed funding, Harvard Program in Therapeutic Science "HiTS" the ground running
With seed funding, Harvard Program in Therapeutic Science "HiTS" the ground running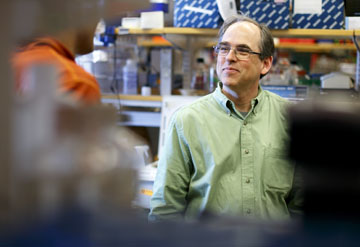 The costs of research and testing are high and the vast majority of drugs fail during clinical trials, resulting in lost investments of up to $1 billion for each drug. This, in turn, ratchets up the cost of drugs for patients and hinders the availability of new medicines to target their diseases.
The Harvard Program in Therapeutic Science (HiTS) is looking to change this paradigm and reinvent the science of drug discovery. Never before have scientists, engineers, and physicians from Harvard University, Harvard Medical School, its affiliated hospitals and research institutes, the pharmaceutical industry, U.S. Food and Drug Administration, and other Boston-area universities come together in such a powerful partnership to improve fundamentally the understanding, discovery, and use of therapeutic drugs and devices.
Based at HMS and led by Peter Sorger, AB '83, PhD, Otto Krayer Professor of Systems Pharmacology at HMS, HiTS is moving full steam ahead thanks to $6 million in seed funding, representing investments by Joshua Boger, AM '75, PhD '79, and his wife, Amy, AB '77, MD, and the Massachusetts Life Sciences Center (MLSC).
"The truth is, we simply don't understand how most drugs work," says Sorger. "Thanks to this generous funding, Harvard is embarking on a bold experiment to rethink the science guiding the development, evaluation, and use of new medicines. We are convening the best research scientists and clinicians and applying advanced experimental and mathematical methods to better understand today's medicines and develop tomorrow's cures."
On Target
There are four components of HiTS. The Laboratory of Systems Pharmacology is a multidisciplinary scientific incubator for applying network-based approaches to the treatment of serious diseases, such as cancer, inflammation, and neurodegeneration. Housed in the Armenise Building on the HMS Quadrangle, this new research facility is being supported by the MLSC, a quasi-public agency established to promote the life sciences within the Commonwealth of Massachusetts.
"A key strategy of the Life Sciences Center is to use our capital dollars to enable the creation of unique resources that are available to the Massachusetts life sciences community, and this innovative project at Harvard Medical School is a great example of that," says MLSC President and CEO Susan Windham-Bannister.
The Therapeutics Technology Cluster will enhance and build core facilities to create and test next-generation therapeutic agents, including molecules and materials designed for function rather than structure. The Therapeutics Graduate Program will award a certificate in therapeutics to doctoral students in biological science, who will complete internships in industry, the clinic, or a regulatory agency.
Finally, the Program in Regulatory Science is an education and research program focusing on the science needed to test and evaluate new medicines more effectively. With support from the Bogers, the program will speed the process of bringing better, safer drugs to the patients who need them and minimizing their use in those who will not benefit.
"The 'regulatory ship' has gotten loaded up with layer after layer of rules, often contradictory or confusing, always more expensive and slower than the previous voyages. No present or future scientific breakthroughs can lead efficiently to transformative innovation without a complete overhaul of this process," says Joshua Boger, founder and former CEO of Vertex Pharmaceuticals and a member of the HMS Board of Fellows. "That overhaul must be based not upon precedent of history, but on present best science."
Boger adds that all the stakeholders—regulators, basic scientists, product innovators—need to be at the table to make progress, which will be uncomfortable since the mission is revolution. "Harvard is uniquely positioned as a safe haven for collaboration and as an active and essential science-driven participant in bringing the science of the 21st century to the regulated therapeutic innovation process," says Boger.
Our
Mission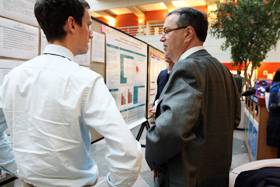 To create and nurture a diverse community
of the best people committed to leadership in
alleviating human suffering caused by disease