Pitts encourages students to take a chance
Pitts encourages students to "take a chance"
He acknowledges it's difficult to get external funding for novel ideas, and he believes that reliance on grant dollars can take the place of "intelligent curiosity," ultimately closing doors on new discoveries.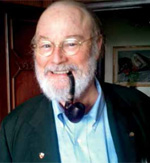 In an effort to encourage students to pursue unanswered questions, Pitts has contributed an additional $100,000 to the existing William R. Pitts, MD '33, and W. Reid Pitts Jr., MD '67, Research Scholars Fund.
"I want students to take a chance. In the course of your medical education, you're bound to come across something that makes you ask 'why?' Find out," he urges.
Pitts leads by example, focusing his own work on identifying the unifying mechanism for the initiation of carcinoma cellular proliferation—ultimately learning that tamoxifen and diethylstilbestrol slow the progression and prolong the survival of breast, prostate, and non-lung carcinomas.
The Pitts Fund specifically supports the HMS Scholars in Medicine program, which has quickly become an integral part of the School's curriculum. The program requires the completion of a scholarly research project from every student, not only nurturing a passion for innovation but also providing students and faculty with new avenues for mentorship and collaboration.
"The goal is to hone critical thinking and foster curiosity among students while equipping them with the tools for discovery," says Program Director Gordon Strewler, MD '71, professor of medicine and master of the Walter Bradford Cannon Society at HMS.
Our
Mission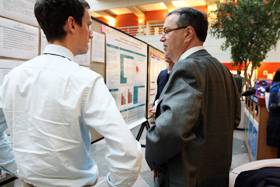 To create and nurture a diverse community
of the best people committed to leadership in
alleviating human suffering caused by disease