Ornitz estate gift allows researchers to think big
Ornitz estate gift allows researchers to think big
The Dorothy Ornitz Endowed Post-Graduate Fellowship Fund will enable current and potential Nobel laureates to pursue their special areas of interest, funding the highly intuitive, speculative investigations that may lead to revolutionary developments that benefit all humankind. In particular, she wanted to support essential research that otherwise might remain unfunded because it is deemed unpopular or impractical.
"I cannot overstate the important role philanthropy must play in the future of biomedical research," says Lee Nadler, MD '73, dean for clinical and translational research and the Virginia and D.K. Ludwig Professor of Medicine at HMS. "The generosity and foresight of individuals like Ms. Ornitz give me great hope for what our researchers will accomplish, and great confidence that HMS will be in a position to support bold, innovative work that can truly transform our capacity to treat and cure disease."
Ornitz's estate included her extensive gemstone collection, several children's books she wrote and illustrated, an animated movie screenplay, and her Manhattan apartment. Her books examined themes such as the longing to explore, as in "The Flower That Wanted to Fly," and the importance of embracing solutions found in unexpected places, as the title character discovered in "The Cat with A Seeing-Eye Mouse".
Our
Mission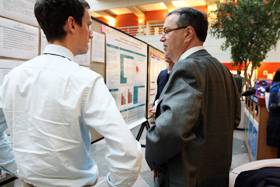 To create and nurture a diverse community
of the best people committed to leadership in
alleviating human suffering caused by disease