McLean professors bequest supports students
McLean professor's bequest supports students
A longtime teacher at the School, he remained dedicated to and impressed by his students until his passing in 2012.
According to his widow, Louise, establishing this scholarship fund was a clear choice for her husband as a way to demonstrate his commitment to both HMS and its students. "He loved the idea of attracting students to the Medical School," she says.
A neurochemist, Hauser joined the faculty of McLean Hospital in 1957 and established a free-standing program at the McLean Hospital Research Laboratory on the metabolism of brain complex lipids. His research concerned the roles of glycolipids and phospholipids in the nervous system, and his efforts furthered scientific understanding of the distribution, metabolism, and functions of these substances. He was later named professor emeritus at McLean, which is an affiliate of HMS.
In 2001, Hauser received the Austrian Cross of Honour for Science and Art, First Class, for his research in neurochemistry. He received the highest recognition for his service in World War II, the Légion d'Honneur, from the French Government for his participation in the liberation of Normandy.
Our
Mission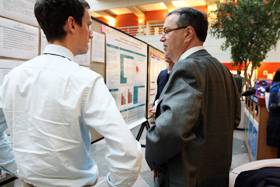 To create and nurture a diverse community
of the best people committed to leadership in
alleviating human suffering caused by disease