Hitting a home run for area students
Hitting a home run for area students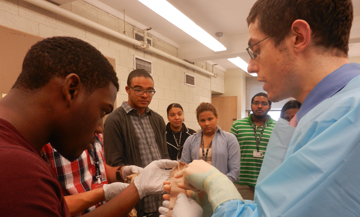 Not only do they have storied histories and traditions, both are committed to serving the community, particularly underserved students. Now the two are teaming up to take that commitment to the next level.
The Red Sox Foundation, the team's official charity, has given $100,000 to support HMS's Project Success, which has been in operation for 20 years and offers paid, full-time, summer biomedical research internships to underserved 11th- and 12th-grade students in Boston and Cambridge who are interested in science and math. In addition, John Kaneb, AB '56, a Red Sox partner and CEO of HP Hood, has given $20,000 to support the program. This combined gift doubles the number of students accepted into Project Success each year.
"This gift from the Red Sox Foundation and John Kaneb will help advance Harvard Medical School's commitment to the community by offering students a hands-on summer research experience under the mentorship of our scientists and researchers," explains Joan Reede, MD, MPH '90, MS '92, MBA, dean for diversity and community partnership at HMS. "Students and mentors often develop relationships that extend beyond the summer internship, creating multiple opportunities for mentoring and networking throughout high school, college, and beyond."
The Red Sox organization and its foundation are thrilled about this new partnership because it builds on the success of its Red Sox Scholars program, which provides intensive mentoring, enrichment activities, and college scholarships to 220 Boston Public School students.

"Project Success's mission is so well aligned with that of the Red Sox Scholars program that this was a natural partnership," says Kaneb, who is a member of the HMS Board of Fellows. "Our goal is to have a significant philanthropic impact on our community, and there is no greater way of achieving that than through the education and mentorship of our students."
Red Sox Chairman Tom Werner could not agree more. "We've had the good fortune to partner with a number of great New England organizations that every day help improve the lives of so many in our community. We look forward to strengthening our commitment to education with partners like Project Success that give students an opportunity to explore different career paths," says Werner.
I Am
Harvard Medicine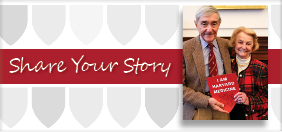 Whatever you are doing and wherever you are working around the globe, YOU are Harvard Medicine.

The Benefactor
Partners in Discovery
Download and read archived issues of our bi-annual publication to honor and acknowledge our most generous friends and supporters.