Finding drug combinations to treat ovarian cancer
Finding drug combinations to treat ovarian cancer
Identifying, preventing, and inhibiting these adaptive responses are critical to combating this disease, the fifth leading cause of cancer-related deaths in the country.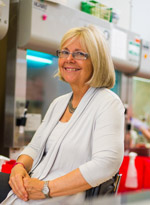 To support this effort, the Dr. Miriam and Sheldon G. Adelson Medical Research Foundation (AMRF) has given $350,000 to the Brugge Laboratory at Harvard Medical School as part of its Ovarian Cancer Demonstration Project.
"Our foundation encourages teams of accomplished scientists from multiple disciplines and institutions to reach for significant new research goals rather than incremental progress," says Sheldon Adelson, trustee of the foundation and CEO and chairman of the board of Las Vegas Sands Corp.
Under the direction of Joan Brugge, PhD, Louise Foote Pfeiffer Professor of Cell Biology and chair of the Department of Cell Biology at the School, the lab is identifying key pathways for tumor cell growth and adaptive resistance to develop effective combination drug therapies. In addition, Brugge's collaboration with other AMRF-funded investigators has enabled researchers to explore mechanisms of resistance to targeted cancer therapies using a three-dimensional model of ovarian tumors.
"This work was initiated with AMRF funding. Our lab had been focused on breast cancer prior to being contacted about the project. This is a great example of the progress that can be made when you bring together experts from complementary areas to examine a problem," says Brugge.
Our
Mission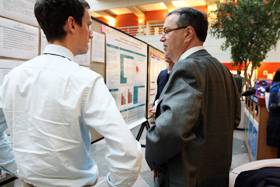 To create and nurture a diverse community
of the best people committed to leadership in
alleviating human suffering caused by disease