Alumni celebrate Reunion and contribute millions to their alma mater
Alumni celebrate Reunion and contribute millions to their alma mater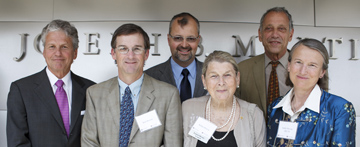 The Reunion classes came together and raised more than $3.7 million, with 39 percent of alumni participating.
Alumni and guests revisited their years as students by attending exciting scientific symposia and celebrating at a gala at the Four Seasons Hotel Boston.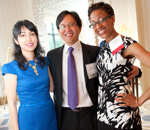 The Faculty Symposium on organ transplantation and regeneration was dedicated to Joseph E. Murray, MD '43, who performed the first successful organ transplant, in recognition of his contributions to Harvard Medical School, medicine, and humanity.
Speakers from the 25th Reunion Symposium spoke to their peers on TEDMED-inspired "Ideas Worth Sharing," covering topics from revamping medical education to pushing research and investigative boundaries.
Friday was also Alumni Day, when all alumni were invited to return to the Quad to participate in the Annual Meeting of the Alumni Association, Alumni Day Symposium on medical education in the era of health care reform, and the Dean's State of the School address.
Eight members of the Class of 1963 sponsored the Race for Reunion Challenge to boost immediate-use scholarship support for today's students by matching all contributions from the 2013 Reunion classes dollar-for-dollar, up to $200,000. The classes met the goal, raising more than $400,000.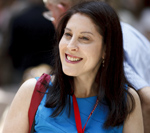 Further support came from the Class of 1963, which raised $100,000 to fund a classroom in the Tosteson Medical Education Center (TMEC) in memory of their classmate J. Bion Philipson, AB '59, MD '63, who died in 1968 in the Vietnam War. Philipson was a captain in the Army in the 9th Infantry Divison and was serving in South Vietnam's Long An Province.
Our
Mission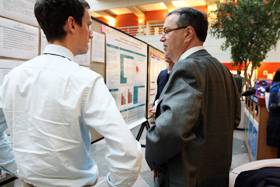 To create and nurture a diverse community
of the best people committed to leadership in
alleviating human suffering caused by disease