Stories
Stories
Halting the rising incidence of—and global death toll from—tuberculosis
Noted Belgian scientist Paul Janssen, MD, used to say, "No time to lose … the patients are waiting." Read more »
---
Moskovitzes move needle toward a cure for Alzheimer's
Alzheimer's disease research is entering a promising and exciting phase, in which the hard-won knowledge about its molecular basis is finally being translated into therapeutics. Read more »
---
Annual Giving Program sets foundation for success
Funds raised by the Annual Giving program are essential to supporting HMS and its mission to provide faculty, researchers, and students—the next generation of health care leaders—the resources they need to alleviate human suffering caused by disease. Read more »
---
Reconnect, Rediscover, Reunion: Alumni celebrate and contribute millions to their alma mater
Whether it had been five years or 50 since their last visit to the Quad, the level of excitement among the nearly 600 alumni and friends returning to campus for Reunion and Alumni Week in May was undeniable. Read more »
---
Somerville, Mass., native propels library innovations
The late Harry G. Burnett, AB '29, a lifelong resident of Somerville, Mass., named the Francis A. Countway Library of Medicine as a beneficiary of more than $670,000 from his estate. Read more »
---
Two congruent missions, one shared vision
For more than 40 years, the Robert Wood Johnson Foundation (RWJF) has worked to improve the health and health care of all Americans. Read more »
---
Merkin invests in the path less traveled
Richard Merkin, MD, as made a substantial gift to establish the Personal Genomes and Conversion of Stem Cells to Neurons Research Fund at Harvard Medical School. Read more »
---
Nutrition as a foundation of health and learning
It seemed obvious to Mavis C. Campbell, PhD, that good health and proper nutrition are essential to learning. To help address this, she established the Mavis C. Campbell, PhD Endowed Teaching and Research Fund in Global Health and Social Medicine. Read more »
---
Alzheimer's research tops Freudenberger family's priority list
Halting Alzheimer's disease is personal for Daniel Freudenberger, AB '67, and his family. Read more »
---
Pitts invests in the next generation of seminal physician-scientists
W. Reid Pitts Jr., MD '67, believes that there is no force more influential than a curious mind. Read more »
---
A lifetime of loyalty
As a way to repay what he was given, Sheldon M. Levin, MD '50, has established an endowed financial aid fund to help HMS students meet their financial obligations. Read more »
---
Symonds celebrates the power of planned giving
Pringle Hart Symonds, AB '56, understands the power of a charitable gift annuity (CGA) and hopes to educate others about the opportunity. Read more »
---
Scientific discovery and innovative approaches inspire support
To fuel scientific courage in its many forms, Thoman has made her second unrestricted gift of $100,000 to the School to provide flexible funding to Dean Jeffrey S. Flier, MD. Read more »
---
Aisenberg family honors inspirational patriarch
The late Alan C. Aisenberg, BS '46, MD '50, PhD, spent the majority of his professional career at Harvard Medical School—more than 60 years of dedication and passion for the School and medical education. Read more »
---
Milestone Reunion leads to motivational "challenge"
When it was time for him to celebrate his 50th Reunion, Claude P. Ghez, MD '64, seized the opportunity to give back by sponsoring the Race for Reunion Challenge—asking the 2014 Reunion classes to collectively give $100,000, which he would match dollar-for-dollar, ultimately raising $200,000 to support the next generation of leaders in science and medicine. Read more »
---
Paul Farmer inspires anonymous gift
Two such devotees have been so inspired by Farmer and his work, they have given $100,000 to the Chair's Opportunity Fund in Global Health at HMS. Read more »
I Am
Harvard Medicine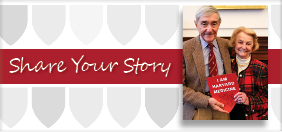 Whatever you are doing and wherever you are working around the globe, YOU are Harvard Medicine.

The Benefactor
Partners in Discovery
Download and read archived issues of our bi-annual publication to honor and acknowledge our most generous friends and supporters.