Researchers tackle perplexing issues with Burroughs Wellcome Fund grants
Researchers tackle perplexing issues with Burroughs Wellcome Fund grants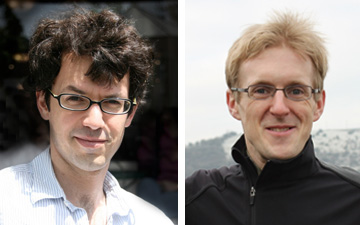 Stem cells and solar energy are two hot-button topics that are prime for scientific exploration. The Burroughs Wellcome Fund (BWF) understands that tackling these types of issues requires investigators trained in diverse areas, such as chemistry, physics, applied mathematics, computer science, and engineering.
To support these cross-trained scientists, the BWF developed the Career Awards at the Scientific Interface, providing $500,000 over five years to support researchers as they complete their postdoctoral training and transition to faculty positions.
"While supporting biomedical research, it has become clear to us that biologists need to interact with physical scientists, mathematicians, and engineers to combine the latest techniques with the insights of those outside biology to answer the most difficult problems of our time," says BWF President John Burris. "This program provides an opportunity for postdoctoral fellows from the world of the physical and mathematical sciences to bring their insights to bear on perplexing biological problems."
Among the 2012 recipients of this award are two such Harvard Medical School research fellows, Buz Barstow, PhD, and Allon Klein, PhD, both from the Department of Systems Biology.
A physicist, Barstow's work focuses on solar energy capture, which he says has the potential to power the world permanently. "The problem is capturing, storing, and transmitting all of that energy," Barstow says. He is using synthetic biology and physics to increase the efficiency of photosynthesis.
Funding from the BWF will allow him to explore electrosynthesis, which combines the efficiency of solar panels with the flexibility of using bacteria that can absorb electricity, and to attempt to make hydrogen directly from sunlight using enzymes called hydrogenases.
Klein will be leveraging his grant to explore how stem cells choose between alternative fates in developing and adult tissues, using tools from stochastic physics and focusing primarily on cell lineage-tracing experiments to reconstruct the decisions made by individual cells. By developing methods for single-cell expression profiling, he hopes to understand the origins of random fate choices.
"We would ultimately like to understand how stem cell choice might be tuned in tissues—a question of practical interest that touches on fundamental aspects of biology," says Klein, who will also use the grant to establish an independent lab.
"The Burroughs Wellcome Fund not only provides funding, it also takes an active interest in assisting its awardees with advice and guidance. It's a great community to be joining," Klein says.
Our
Mission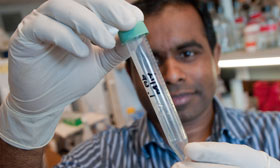 To create and nurture a diverse community
of the best people committed to leadership in alleviating human suffering caused by disease