Lynch Foundation renews systems biology fellowship support
Lynch Foundation renews systems biology fellowship support
Since its inception in 2008, the Carolyn and Peter Lynch Fellowship in Systems Biology Fund at Harvard Medical School has been helping nurture graduate students as they pursue their research and education. Now, a generous $1 million gift from the Lynch Foundation extends this program, enabling more exceptional students to access this opportunity.

Both Peter and Carolyn have an extensive history with HMS. Peter is a long-serving member of the Board of Fellows, helped launch the Department of Systems Biology in 2003, and has chaired the Systems Biology Advisory Council, of which Carolyn is also a member, since 1997.
As staunch supporters of basic research, the Lynches believe firmly that the interdisciplinary approaches of systems biology—fusing the fields of biology, computer science, mathematics, physics, chemistry, and engineering—will propel new treatments for today's most vexing diseases.
"The teams of people that are tackling these issues are essential. More importantly, what they learn is being shared globally. You don't know how far these ripples will reach; where one missing link could lead to the eradication of a disease," says Peter. "I lost both my parents and many other loved ones to cancer. This and other diseases, like diabetes, Alzheimer's, and cardiovascular disease, are causing human sorrow around the world."
To date, nine emerging scientists have been named Lynch Fellows. They have studied important biological issues, such as protein misfolding, a hallmark of neurodegenerative diseases such as Parkinson's; the bacteria vital to regulating global greenhouse gases; and the evolution of a bacterium that infects the lungs of cystic fibrosis patients.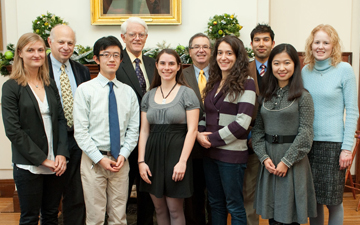 "We couldn't be more pleased with the progress we've seen. The Fellows I've met are bright, enthusiastic, and curious. They're just starting their careers and they're working under the finest scientists in the world. I think they will have a great impact on science over the long term," says Peter.
Carolyn couldn't agree more. "It's been inspiring to see how these students have embraced the new direction of medical research," she says. "They're excited to collaborate. As with most issues you're trying to solve, the aha moments come when you break down the silos."
According to Marc Kirschner, PhD, chair of the Department of Systems Biology, the Lynch Foundation has recognized the importance of this crucial training period and the difficulty in obtaining adequate funds to support it. "Students are the heart of the developing field of systems biology, and we are lucky to have attracted some of the very best students from around the world to join our graduate program," he says. "We are very grateful for this gift, which will have consequences for both current and future students in the program."
Our
Mission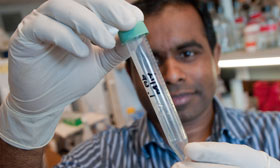 To create and nurture a diverse community
of the best people committed to leadership in alleviating human suffering caused by disease