LSRF framework links sponsors with inspired scientists
LSRF framework links sponsors with inspired scientists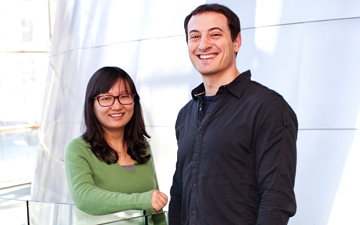 The Life Science Research Foundation's (LSRF) Postdoctoral Fellowship Program fosters partnerships between academic institutions and the Howard Hughes Medical Institute (HHMI), research-oriented companies, foundations, government agencies, and other philanthropists by matching these sponsors with scientific investigators most relevant to their interests. This year, LSRF helped pair the HHMI with two Harvard Medical School researchers, Ting Pang, PhD, and Daniel Mandell, PhD, resulting in a $336,000 gift.
"The success of LSRF is ultimately the training of young, inspired scientists. Our fellows have a remarkable record of becoming leaders in their fields, and even establishing new fields," says LSRF President Donald Brown.
Pang, a microbiology and immunobiology research fellow, studies methicillin-resistant Staphylococcus aureus (MRSA).
"More people die of MRSA infections in U.S. hospitals than of HIV/AIDS and tuberculosis combined," Pang says. She hopes her comprehensive genetic analysis of its bacterial cell wall will fuel future antibiotic discovery.
Mandell is a genetics research fellow who is developing protein-based in vivo biosensors to help understand small molecule activity in normal and diseased cells. "This fellowship has provided me with resources that accelerate my research," Mandell says. "I've also been connected to the broader LSRF Fellows community—passionate scientists eager to share ideas across a diversity of disciplines within the life sciences."
Pang adds, "Being a HHMI LSRF fellow not only provides financial support, but it also gives me confidence that my work means something to society. I hope this project opens up new areas of investigation for me in the future."
Our
Mission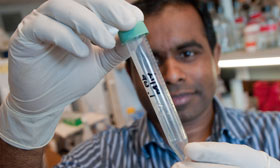 To create and nurture a diverse community
of the best people committed to leadership in alleviating human suffering caused by disease