Incubating innovation in primary care
Incubating innovation in primary care
Together, they are laser-focused on solving the national and global health care crises by transforming how primary care is delivered and how medical practitioners and leaders are trained.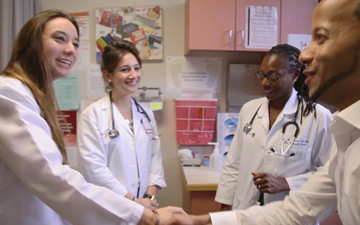 Established in 2010 through a landmark $30 million gift from an anonymous donor, the Center has made marked progress toward its ambitious goals in just two years. Excited by this promising trajectory, the anonymous donor has given an additional $4 million to spark new levels of innovation among students, faculty, and the community.
"Teamwork, collaboration, and innovation are essential to driving down costs and improving quality," says Russell Phillips, MD, director of the Center for Primary Care and professor of medicine at HMS. "This generous gift allows us to put resources to work immediately and create the most substantial impact. As the Center grows and identifies new needs and opportunities, current-use funding allows us to adapt and expand programs to meet the ever-changing needs of the primary care community."
Student Focus
Half of this new gift will fund a challenge grant to Harvard-affiliated academic medical centers to create a model family medicine residency program to train the next generation of leaders in this critical area. According to Center Co-director Andrew Ellner, MD '04, while both pediatrics and internal medicine have produced fewer primary care physicians in recent years, nearly all family medicine residents enter the field of primary care once they have completed training.
"Although family medicine is a critical part of the primary care workforce, HMS is one of a small list of prestigious medical schools that lacks a family medicine presence," says Ellner.
"Creating a residency program affiliated with Harvard signals our intention to embrace family medicine and to help address the primary care crisis."
The remaining $2 million will create two funds focused on developing health care leadership and innovation. The Health Care Leadership, Innovation, and Management Fund will allow HMS to develop the expertise necessary to provide consultation, curriculum, teaching, and research on primary care innovation. The Innovation Incubator Fund will support an innovation laboratory, in concert with the Harvard Innovation Lab (iLab), encouraging collaboration among students at HMS and across Harvard to partner with faculty and entrepreneurs to develop new technologies and organizational approaches that promote health and redesign the way care is delivered.
"This incubator will create resources that not only support innovation by students and faculty, but also support the formation and growth of new companies that might result from innovative ideas generated by the program," says Phillips. "We are thrilled about the ideas and improvements our students will help to catalyze in our own backyard and far beyond."
Ellner adds that the Center has already had a promising experience with this approach in response to a competitive challenge grant that proposed new ways to improve health among patients served by community health centers. This program, led by Myechia Minter-Jordan, MD, MBA, faculty lead for the Abundance Agents of Change Program, instructor of Medicine at HMS, and CEO of the Dimock Center, resulted in entries from 12 teams, four of which were selected for funding.
Our
Mission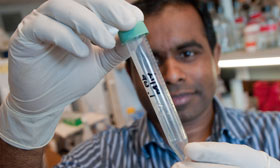 To create and nurture a diverse community
of the best people committed to leadership in alleviating human suffering caused by disease