EMF grant deepens understanding of aging
EMF grant deepens understanding of aging
Aging is a complicated process—physically, emotionally, and genomically. As Biomedical Informatics Research Associate Peter Kharchenko, PhD, puts it, aging underscores the human experience, from philosophical aspects to very pertinent health considerations.

With help from a $390,122 grant from the Ellison Medical Foundation (EMF) as a New Scholar in Aging, he hopes to better understand aging and how it impacts sensitive parts of the genome—those with mobile and repetitive elements—in cells that are responsible for maintenance and repair of tissues.
"Such elements are very abundant within our genomes, and if not properly maintained can cause a variety of problems," says Kharchenko, who aims to examine a key aspect of cellular functions: the packaging of the genome, focusing on the maintenance of those repetitive elements during aging.
Kharchenko's lab will conduct tests to characterize what happens within these critical cell types during the aging process and hopefully gain clues as to how some of the age-associated pathologies—such as arthritis, cancer, and type 2 diabetes—develop.
EMF's New Scholar Awards provide support for newly independent investigators within the first three years following their postdoctoral training.
Our
Mission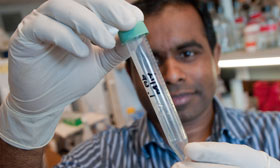 To create and nurture a diverse community
of the best people committed to leadership in alleviating human suffering caused by disease