Funding Opportunities
Funding Opportunities
OPEN: NIH - Center for Inherited Disease Research (CIDR) High Throughput Genotyping and Sequencing Resource Access (X01)
With the continued advances in our ability to detect human genetic variation, there is great interest in applying state-of-the-art technology to find genetic elements important in human health and disease. For many studies this requires high-throughput genotyping technologies that cannot be efficiently carried out in individual investigator laboratories. CIDR fulfills this need for many kinds of projects including whole genome association studies (GWAS); gene searches using next-generation sequencing technology and high-throughput custom genotyping. 
This FOA is to provide access to full-service high-throughput genotyping, sequencing or other genetic tools to aid the discovery of genetic elements important in health and disease. A particular focus will be on services that are not readily available in individual investigator laboratories.  
Applications are received via continuous receipt and will be reviewed via an expedited process.
OPEN: NIH - Developing and Improving Institutional Animal Resources (G20)
This FOA encourages applications from biomedical research institutions that propose to renovate, repair, or improve individual animal resources. The major objective of this program is to upgrade animal facilities to support the conduct of biomedical and/or behavioral research. Support can be requested to alter and renovate (A&R) the animal facilities, as well as to improve the animal care equipment in the facility. It is expected that all award funds will be expended expeditiously and that applicants will consider the use of sustainable design technologies and design approaches.
Application Due Date (Next Cycle): August 3, 2015
OPEN: NSF - Advances in Biological Informatics (ABI)
The Advances in Biological Informatics (ABI) program seeks to encourage new approaches to the analysis and dissemination of biological knowledge for the benefit of both the scientific community and the broader public. The ABI program is especially interested in the development of informatics tools and resources that have the potential to advance- or transform- research in biology supported by the Directorate for Biological Sciences at the National Science Foundation.
Application Due Date: August 11, 2015
UPCOMING: The Tools and Technology Funding Program
The Tools and Technology Funding Program provides funds for equipment purchase and start-up costs for shared technology and research facilities that may be difficult to fund through other mechanisms.
We encourage faculty members to collaborate within and across departments to develop proposals for shared equipment and facilities, and to leverage other funding opportunities whenever possible.
The TnT Committee is working closely with departments and department leadership to identify future funding opportunies and needs. Stay tuned for more information.
 
CLOSED: Limited Submission: NSF - Major Research Instrumentation Program (MRI)
The Major Research Instrumentation Program (MRI) serves to increase access to shared scientific and engineering instruments for research and research training in our Nation's institutions of higher education, and not-for-profit museums, science centers and scientific/engineering research organizations. This program especially seeks to improve the quality and expand the scope of research and research training in science and engineering, by supporting proposals for shared instrumentation that fosters the integration of research and education in research-intensive learning environments.
Internal Deadline (PAST): November 5, 2014
Application Due Date: January 22, 2015
CLOSED: NIH - Shared Instrumentation Grant Program (S10)
The ORIP Shared Instrument Grant (SIG) program encourages applications from groups of NIH-supported investigators to purchase or upgrade a single item of expensive, specialized, commercially available instrumentation or an integrated system that costs at least $100,000. The maximum award is $600,000. Types of instruments supported include, but are not limited to, confocal and electron microscopes, biomedical imagers, mass spectrometers, DNA sequencers, biosensors, cell-sorters, X-ray diffraction systems, and Nuclear Magnetic Resonance (NMR) spectrometers among others.
Application Due Date (PAST): March 21, 2014*
*IMPORTANT: If you plan on submitting an application, please send a brief summary of your proposal to Judy Glaven (judith_glaven@hms.harvard.edu) for coordination with the provost's office.
CLOSED: NIH - Instrument Development for Biomedical Applications (R21)
The primary intent of this FOA is to stimulate the development of instrumentation for biomedical research that will support achievement of biomedical breakthroughs. Applications that are high risk but have potential for considerable payoff are encouraged. NIGMS solicits innovative applications focused on the development of new or improved instrumentation. Projects should propose tools that can be used by a wide range of biomedical or clinical researchers. The overall objective should be the development of more powerful and more precise technology with broad applicability to biomedical research.
Application Due Date (PAST): November 1, 2013
CLOSED: NIH - High-End Instrumentation Grant Program (S10)
The ORIP High-End Instrumentation Grant (HEI) program encourages applications from groups of NIH-supported investigators to purchase a single major item of equipment to be used for biomedical research that costs at least $750,000. The maximum award is $2,000,000. Instruments in this category include, but are not limited to, biomedical imaging systems, NMR spectrometers, mass spectrometers, electron microscopes and supercomputers.
Application Due Date (PAST): September 13, 2013
CLOSED: MLSC Capital Program
The Capital Program  provides grants for capital projects that enable and support life sciences workforce development and training, research and development, commercialization and/or manufacturing in Massachusetts.  Applicants are academic organizations, research institutions, research hospitals, business incubators and other non-profit organizations. MLSC recognizes that investment in capital projects and infrastructure is required to create and sustain the attributes that make Massachusetts attractive to innovation clusters such as life sciences. This program is designed to help fund high potential economic development projects that promise to make a significant contribution to the state's life sciences ecosystem.
CLOSED: Advanced Microscopy Pilot Funding Opportunity
An initiative of Harvard Catalyst's Reactor Program, the Advanced Microscopy Pilot Grant Awards will make available up to $40,000 per award to eligible researchers in pathology and other areas. This opportunity will allow investigators to advance their research in pathology by utilizing technologically advanced, 21st century microscopes and equipment available to Harvard-affiliated researchers at the Harvard Center for Biological Imaging (HCBI). To apply, you are first required to meet with an HCBI representative to learn more about the microscopes and tour the facility by October 1. The request for applications (RFA) will only be open to those who have completed the prerequisite educational events or toured the facility.
For more details about this funding opportunity please see the Catalyst website.
Mission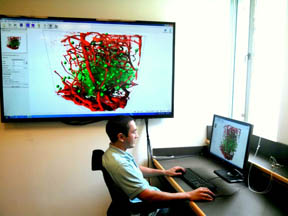 To support and stimulate the development and dissemination of tools and technologies to ensure that HMS maintains world leadership in critical areas of biomedical research.