External Workshops and Courses
External Workshops and Courses
Below is a list of upcoming events and workshops that may be of interest. Many of these workshops are taught by HMS faculty and staff. For an extensive listing of courses held at these various institutes, see the Related Links menu on the sidebar.
EMBL Introductory Course: Next Generation Sequencing: RNA Sequencing Library Preparation
When: January 28 - January 30, 2015
Where: EMBL Heidelberg, Germany
Application Deadline: December 14, 2014
The goal of this course is to teach the fundamentals of NGS library preparation and validation using the Illumina TruSeq stranded total RNA sample preparation kit. We will start with an introduction into Illumina NGS technology and the library preparation workflow. The main part will be the preparation of libraries from total RNA, with a focus on the critical steps and potential pitfalls of the protocol. Finally we will quantify and quality control the prepared libraries, before discussing solutions for total RNA sequencing data analysis.  
EMBO Practical Course: Metabolomics Bioinformatics for Life Scientists
When: February 16 - February 20, 2015
Where: European Bioinformatics Institute, United Kingdom
Application Deadline: December 1, 2014
This course will provide an overview of key issues that affect metabolomics studies, handling dataset and procedures for the analysis of metabolomics data using bioinformatics tools. It will be delivered using a mixture of lectures, computer-based practical sessions and interactive discussions. The course will provide a platform for discussion of the key questions and challenges in the field of metabolomics, from study design to metabolite identification.
ASCB Webinar: Using Dynamic Intravital and Advanced Multiplex Static Ex Vivo Imaging to Visualize Immune System Function
When: February 23, 2015
Register Here: http://ascb.org/webinars/
Ron Germain, National Institute for Allergy and Infectious Diseases, NIH, will cover the application of intravital 2-photon microscopy and highly multiplexed ex vivo confocal imaging to the analysis of immune function in complex tissues, including intravital imaging experiments, major findings using the method, and future developments.
EMBO Practical Course: in vivo Plant Imaging
When: March 9 - March 15, 2015
Where: EMBL Heidelberg, Germany
Application Deadline: December 10, 2014
This course will teach participants the practical aspects of live-imaging plant tissues. Over many years, certain laboratories have developed specialised imaging techniques optimised for plants. However despite these advances, the adoption of these techniques by the wider plant research community has been extremely limited. These specialised techniques will be taught to help promote their wider adoption. The course will cover the physical preparation of samples from different parts of the plant as well as time-lapse imaging strategies and image analysis approaches and uses.
SME Bioinformatics Forum
When: March 9 - March 10, 2015
Where: European Bioinformatics Institute, United Kingdom
In 2015 the SME forum will take place in the South Building on the Wellcome Trust Genome Campus with the support of One Nucleus, a key life-science and health SME cluster in the United Kingdom. The event will take place on Monday 9 March 2015 with a hands-on training session taking place on Tuesday 10 March 2015.
CSHL Course: The Genome Access Course (TGAC)
When: March 30 - April 1, 2015
Where: CSHL, Cold Spring Harbor, NY
Rolling Admission
The Genome Access Course is an intensive two-day introduction to bioinformatics. The core of the course is the analysis of sequence information framed in the context of completed genome sequences. The course also features methods to assist the analysis and prioritization of gene lists from large scale microarray gene expression and proteomics experiments.
CSHL Course: Quantitative Imaging: From Cells to Molecules
When: April 18 - April 21, 2015
Where: CSHL, Cold Spring Harbor, NY
Application Deadline: January 31, 2015
This course will focus on advanced quantitative fluorescence microscopy techniques used for imaging a range of biological specimens, from cells to single molecules. The course is designed for cell and molecular biologists with little or no microscopy experience who wish to begin utilizing microscopy in their own research.
EMBO Workshop: Computational biology: From genomes to systems
When: April 17 - April 22, 2015
Where: Okinawa, Japan
Application Deadline: November 30, 2014
The EMBO Workshop will teach advanced methods and applications of computational biology for high throughput data analysis in molecular biology. Its primarily addresses early stage experimental biologists facing in large-scale data analysis and computational scientists with previously limited exposure to experimental biology. Practical skills for data analysis will be developed in seven half-day sessions and applied in a joint research project. 
MBL Course: Analytical & Quantitative Light Microscopy

When: April 29 - May 8, 2015
Where: MBL, Woods Hole, MA
Application Deadline: January 21, 2015
A comprehensive and intensive course in light microscopy for researchers in biology, medicine, and material sciences. This course provides a systematic and in-depth examination of the theory of image formation and application of video and digital methods for exploring subtle interactions between light and the specimen. This course emphasizes the quantitative issues that are critical to the proper interpretation of images obtained with modern wide-field and confocal microscopes.
Online: iBiology Microscopy Course
This course is available for FREE online.
View Course HERE.
Light microscopy has become one of the most useful tools in the life sciences. Following the traditions of great courses on light microscopy, such as those offered by the Marine Biological Laboratory, EMBO, and the NCBS in Bangalore, this free online comprehensive course begins with the basics of optics, proceeds through transmitted light microscopy, covers the various methods of imaging fluorescent samples, describes how cameras work and image processing, and concludes with some of the latest advances in light microscopy. In addition to lectures, we also provide labs (filmed at a microscope) and short tips, so as to cover pragmatics of how to use microscopes. Assessments are provided for each lecture. Enjoy learning microscopy!
Mission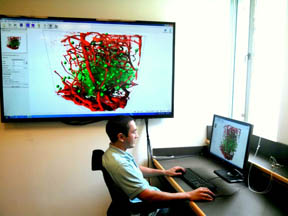 To support and stimulate the development and dissemination of tools and technologies to ensure that HMS maintains world leadership in critical areas of biomedical research.