External Workshops and Courses
External Workshops and Courses
Below is a list of upcoming events and workshops that may be of interest. Many of these workshops are taught by HMS faculty and staff. For an extensive listing of courses held at these various institutes, see the Related Links menu on the sidebar.
Correlative Light Electron Microscopy
When: July 6-July 11, 2014
Where: Bristol, UK
Apllication Deadline: Friday, April 4, 2014
This EMBO Practical Course aims to train young scientists in the available techniques in the field of life science Correlative Light Electron Microscopy. Students will be given a theoretical overview of the techniques and the rationale behind why a particular method is applied to a scientific question. Students will experience using most of the techniques and they will be provided with practical tips and tricks from the teaching staff. Students are encouraged to challenge the techniques, propose alternatives, and discuss how CLEM can be applied to their own specific research questions.
Fluorescence Imaging Techniques
When: July 7 - 11, 2014
Where: EMBL Heidelberg, Germany
Apllication Deadline: April 22, 2014
Topics covered in this course are fluorescence microscopy techniques and data analysis such as: time-lapse microscopy, confocal microscopy, total internal reflection fluorescence microscopy (TIRFM) and super resolution microscopy (PALM, STORM). This course is directed towards researchers in the life sciences with access to light microscopy equipment.
Montreal Light Microscopy Course
When: July 14 - 18, 2014
Where: McGill University
Apllication Deadline: May 2, 2014
The July 2014 MLMC is designed to provide one week of advanced instruction in optical microscopy. Students, fellows, technical staff and research scientists are welcome to attend. Lectures will be presented in the morning, while the afternoons will be devoted towards hands-on sessions with a variety of optical microscopy techniques.
Proteomics
When: July 15-July 28, 2014
Where: CSHL
Application Deadline: March 15, 2014
This intensive laboratory and lecture course will focus on cutting-edge proteomic approaches and technologies. Students will gain practical experience purifying and identifying protein complexes and posttranslational modifications. The aim of the course is to provide each student with the fundamental knowledge and hands-on experience necessary for performing and analyzing proteomic experiments. The overall goal is to train students to identify new opportunities and applications for proteomic approaches in their biological research.
Super-Resolution Microscopy
When: July 21 - 25, 2014
Where: EMBL Heidelberg, Germany
Apllication Deadline: May 1, 2014
This five day advanced course on fluorescence super-resolution microscopy covers the theory and practical application of current super-resolution microscopy techniques to biological questions. The participants will have sufficient time to use current super-resolution microscopes for Localization Microscopy.
EMBL Conference: Microfluidics 2014
When: July 23 - 25, 2014
Where: EMBL Heidelberg, Germany
Registration Deadline: June 12, 2014
The EMBL Microfluidics Conference 2014 aims to bring together top researchers in the field and to spark scientific exchange, also across different disciplines. The latest Lab-on-a-Chip technologies and applications will be presented, which should be of major interest for experts as well as scientists looking for a first glance at this exciting new technology.
Optical Microscopy & Imaging in the Biomedical Sciences
When: September 4 - 14, 2014
Where: MBL
Apllication Deadline: June 11, 2014
Topics to be covered include: (a) fundamental principles of microscope design, image formation, resolution, contrast; (b) bright field, dark field, phase contrast, polarized light, differential interference contrast, interference reflection, and fluorescence microscopy; (c) cameras, signal to noise ratio, digital image recording, processing and analysis, multispectral imaging; (d) advanced fluorescence-- fluorescent probes, TIRF, FRET, FLIM, FRAP, polarization of fluorescence, fluorescence correlation spectroscopy; (e) digital image restoration/deconvolution, and 3-D imaging principles, confocal scanning microscopy, multiphoton excitation fluorescence microscopy; application of the optical methods to live cells will be emphasized.
Sixth Bangalore Microscopy Course
When: September 21 - 28, 2014
Where: National Center for Biological Sciences (NCBS), Bangalore, India
Apllication Deadline: May, 30, 2014
The course will be intense and will require full-time participation from morning till evening. Lectures will be combined with practical demonstrations and discussions with teachers. The course will cover many aspects of modern biological microscopy including microscope optics, associated hardware, fluorophores and sample preparation techniques. Participants can bring their own samples to image using the systems available at the course. Designated 'free time on microscopes' will be available practically every day of the course where the participants can explore a particular imaging system and image their samples.
The Genome Access Course (TGAC)
When: November 12 - 14, 2014
Where: CSHL
The Genome Access Course is an intensive two-day introduction to bioinformatics. The core of the course is the analysis of sequence information framed in the context of completed genome sequences. The course also features methods to assist the analysis and prioritization of gene lists from large scale microarray gene expression and proteomics experiments.
iBiology Microscopy Course
This course is available for FREE online.
View Course HERE.
Light microscopy has become one of the most useful tools in the life sciences. Following the traditions of great courses on light microscopy, such as those offered by the Marine Biological Laboratory, EMBO, and the NCBS in Bangalore, this free online comprehensive course begins with the basics of optics, proceeds through transmitted light microscopy, covers the various methods of imaging fluorescent samples, describes how cameras work and image processing, and concludes with some of the latest advances in light microscopy. In addition to lectures, we also provide labs (filmed at a microscope) and short tips, so as to cover pragmatics of how to use microscopes. Assessments are provided for each lecture. Enjoy learning microscopy!
Mission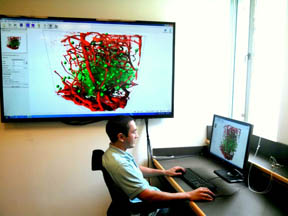 To support and stimulate the development and dissemination of tools and technologies to ensure that HMS maintains world leadership in critical areas of biomedical research.