9.07 Standard Precautions
9.07 Standard Precautions
Harvard medical and dental students working in the laboratory, in clinical simulations (such as teaching sessions that involve practice on volunteers or fellow students), or with patients, should follow Standard Precautions at all times:
Always wash your hands or use a hand sanitizer before and after touching a patient, after using the restroom, and after touching a contaminated surface. Infections are caused by bacteria or viruses MOST COMMONLY SPREAD BY UNWASHED HANDS.
Consider all blood, all body fluids, and all mucous membranes or non-intact skin from ALL PATIENTS to be infectious.
Wear gloves when exposure to blood, body fluids, mucous membranes, or non-intact skin may occur. Change your gloves and wash your hands after each procedure and before contact with another patient.
Wear a mask and protective eyewear (or face shield) when blood or body fluids may splash into your face.
Wear a fluid resistant gown during activity that may generate splashes or sprays of blood, body fluids, secretions, or excretions.
DO NOT RECAP NEEDLES OR SHARPS after use. Place all disposable sharps into puncture-proof containers immediately after use. Locate the designated container before you begin the procedure.
Always use needle safety devices when available and activate the safety feature.
Precautions Against Exposures of Particularly Dangerous Infections: Hepatitis B Virus (HBV), Hepatitis C Virus (HCV), Human Immunodeficiency Virus (HIV)
Harvard medical and dental students should report immediately all incidents of exposure to blood and bodily fluid of the following natures: parenteral (needlestick or cut); mucous membrane (splash to eyes, nose or mouth); or cutaneous (contact with blood or body fluids on ungloved hands or other skin surfaces that may be cut, chapped, abraded, or affected by active dermatitis).
Potential benefit of prophylactic intervention for all of these infections is time-dependent. For maximal benefit, intervention SHOULD BE INITIATED IN THE INITIAL HOURS AFTER EXPOSURE, particularly after exposure to HIV.
What to Do in Case of a Needlestick or Other Direct Exposure:
Immediate Response
Clean wound with soap and water (special products are not necessary);
Apply direct pressure if needed; and
Flush mucous membranes with water or saline for 15 minutes.
After First Aid
PROMPT NOTIFICATION IS CRITICAL; TREATMENT OPTIONS MAY INCLUDE ANTI-HIV THERAPY OR HEPATITIS B IMMUNE GLOBULIN (HBIG).
Call 617-384-7845 (617-384-STIK), and you will hear a recorded message with the name and page number of the on-call HUHS physician.
Page the on-call HUHS physician for advice and assistance in obtaining a timely evaluation and proper follow-up care.
The HUHS on-call physician will help determine whether to have an initial evaluation at the institution where the incident occurred, the Medical Area Health Service (MAHS), or Harvard University Health Services (Holyoke Center) in Cambridge. All subsequent care for the exposure should occur at the MAHS. Follow-up care given outside HUHS/MAHS may be billed to the student. Laboratory testing is billed to the Student Health Insurance Plan or comparable coverage. Students are also advised to notify their supervising house officer and the infection control office in the institution where the incident occurred.
These instructions are included in the pamphlet "Protecting Yourself and Your Patients from Infection: Guidelines for Harvard Medical and Dental Students," available through the Registrar's Office, or in the "Guide to the Wards" handbook, available from the Office of Student Affairs. For more information, including contact information at Harvard's teaching sites, consult http://huhs.harvard.edu/AboutUs/OurLocations/MedicalAreaHealthService/Emergencies.aspx
Our
Mission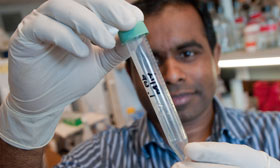 To create and nurture a diverse community
of the best people committed to leadership in alleviating human suffering caused by disease