7.04 Weather and Emergency Policy
7.04 Weather and Emergency Policy
Emergency Notification System
All students are required to sign up to receive emergency notifications from Harvard University's Community Emergency Notification System called MessageMe, which allows the University to quickly distribute critical information to you, wherever you are located, during an emergency. MessageMe helps you stay informed in the event of an emergency by sending alerts to your personal electronic device (cell phone, PDA, smartphone, etc.) through text messaging, voicemail, and/or e-mail. Students can sign up for the Emergency Notification Service by going to https://messageme.harvard.edu/ or through MyCourses (http://mycourses.med.harvard.edu/). Instructions for MyCourses are as follows: Click on My Account in the upper right corner of the page, click on Email Settings. Click on the button, Register/Update MessageMe under the MessageMe Preferences panel and follow the directions to register for this service.
Weather Emergencies
During a weather emergency or other emergency, all members of the HMS community may call 617-432-6666 to hear the latest information on the status of the School via a listen-only voice mail box.
The Medical School's general position regarding inclement weather is that, short of a declared State of Emergency (see below), the School remains open. The teaching and research activities of HMS continue despite inclement weather. In such weather emergencies, however, the Dean for Medical Education may decide to cancel classes. Unless a message to the contrary is communicated through one of the means outlined below, you should assume that classes are held as scheduled; however, use your discretion regarding travel safety.
If a decision is made to cancel classes, a message will be communicated via phone, internet, and television:
HMS Phone: 617-432-6666 (listen-only voice mail box);
HMS Internet: http://hms.harvard.edu/ and Intranet: MyCourses and eCommons. A "no classes" announcement on these sites will refer to all MD classes on the HMS Quad;
Local television channels 4 (CBS), 5 (ABC) and 7 (NBC) and their corresponding websites.
Even in lesser storms, some faculty tutors, lecturers, or lab instructors may not be able to make it in from distant suburbs. As the Office of Curriculum Services is notified of a faculty absence, a message will be posted on MyCourses and on the door of the appropriate classroom.
If the emergency situation is inclement weather, all students at clinical sites are responsible for contacting and following the reporting instructions of their site or clerkship director. Students must use their own discretion regarding the safety of travel to their clinical site.
When a State of Emergency is declared by the Governor or other local governing official, school personnel are expected to abide by those directives, and no classes will take place. Third- and fourth-year students may be essential to the emergency; therefore, again, those students follow the reporting instructions of the clinical site and clerkship director.
Our
Mission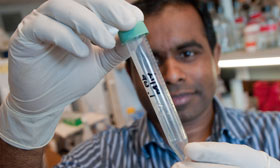 To create and nurture a diverse community
of the best people committed to leadership in alleviating human suffering caused by disease