5.00Enrollment in Additional Degree Programs during Medical School
5.00 Enrollment in Additional Degree Programs during Medical School
Harvard medical students interested in pursuing a master's degree at either a Harvard school or a program at another university in conjunction with the MD degree are eligible to enroll in a master's program after successfully completing the first three years of medical school. The first three years of the MD curriculum progress developmentally from normal systems to pathophysiology to clinical medicine in an uninterrupted temporal sequence in which each phase follows from, builds upon, and reinforces the preceding one. Interrupting the MD curriculum after the Fundamentals of Medicine or HST preclerkship curriculum to pursue a master's degree disrupts this sequence. Furthermore, most Master's degree programs prefer or require that medical students complete three years of medical school before enrolling in the master's curriculum. Lastly, entering a master's program prior to the completion of the third-year Principal Clinical Experience (PCE) creates logistical and scheduling problems for both the MD and Master's programs. Because master's degree programs follow a traditional academic calendar, the programs ordinarily do not begin until September, creating a hiatus from April through August. More importantly, the programs do not end until mid-May, preventing the student from entering the PCE at its critical beginning. Completing the PCE prior to entering a master's program also allows students to take the Comprehensive OSCE in June following the PCE and to enroll in clinical electives and/or a subinternship in May or June. However, priority for core subinternship slots will be given to students who are planning to graduate the following May.
Students pursuing a master's degree following the PCE are eligible for HMS financial aid through June of the PCE year; financial aid during the master's degree year is administered by the school providing the master's degree. Ordinarily, financial aid during the master's degree year is not available until the student is enrolled in that program (typically beginning in September).
NB: The master's degree must be completed prior to the final graduating year at HMS.
Our
Mission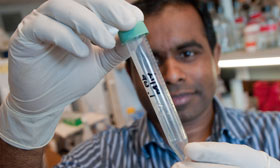 To create and nurture a diverse community of the best people committed to leadership in alleviating human suffering caused by disease